October 27, 7 PM: Info Session on State & National Register Sites in HC
The Hunterdon County Historical Society announces an evening workshop in cooperation with the NJ Historic Preservation Office on October 27, 2016 @ 7 pm at the Society's headquarters and library located at 114 Main Street in Flemington.
The session will cover eligibility and how to begin an application to the State and National Register of Historic Places for homeowners as well as for municipalities and historic sites. The preservation office staff will review the many properties in Hunterdon County with pending applications and how to move those properties to the National Register for nomination. Questions about whether or not your site is still pending can be clarified by contacting the historical society prior to the session.
Information will also be available for real-estate agents to clarify impacts to ownership and future sales along with tax incentive programs that are offered by the State and Federal government for historic properties. Home owners are encouraged to attend if they are thinking of purchasing an historic property or if they are considering nominating their property to the State and National Register.
The information meeting is free but pre-registration is required as space is limited. Participants may call or e-mail the Hunterdon County Historical Society @ info@hunterhistory.org or 908-782-1091.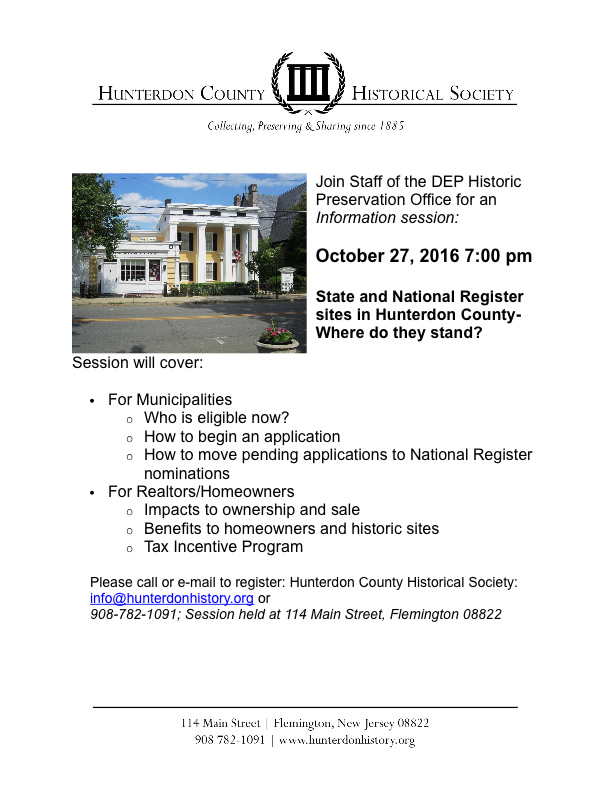 Save
Save
Save
Save
Save