Beginning Thursday, March 2, 2023, the Hunterdon County Historical Society will charge a $10 fee to non-members who wish to use our research library and collections.  Library use will continue to be free for HCHS members.  In addition, our distance research service fees will increase.  Details are below.
Visiting the Library
The Hiram E. Deats Memorial Library, located at 114 Main Street in Flemington, New Jersey holds the largest collection of Hunterdon County historical and genealogical material anywhere. The library is open for research on an appointment-only basis on Tuesdays and Thursdays (except 2nd Tuesday of each month) from noon to 4 p.m. Appointments are free for members.  The non-member research fee is $10.00 per visit.  The fee covers staff time to research, select, and pull relevant materials for your visit. We encourage you to become a member – especially if you plan to visit our library more than once! To learn more about the benefits of membership and to join or renew your membership, please click on the following link:
Please email the librarian at hunterdonhistoryinfo@gmail.com  and include information on your research topic.  As some materials are held offsite, we ask for one week's notice so we may have relevant materials available for your visit.
Distance Research
For those who cannot visit the library, distance research requests are available for a fee of $40 for members and $50 for non-members. This fee includes two hours of researching relevant library and archival resources by our staff or experienced research volunteers. Please note we do not research house histories or conduct off-site research such as trips to the County Clerk's Hall of Records or Surrogate's Office. Research fees are nonrefundable and apply whether any relevant information is found or not. Requests are answered in the order received and turnaround time is usually 3-4 weeks.
We do not accept requests for any or all information about a person or family but ask that you have a specific question so the research can be targeted. Please include any sources already consulted so we do not duplicate your work.
Requests can be submitted in two ways: 
Download an application

(link located below), complete the form and mail it with a check for $40 member/$50 non-member for initial 2-hour search to: Research Query, Hunterdon County Historical Society, 114 Main Street, Flemington, NJ 08822.

Online

(links located below): Please click on the appropriate link for member or non-member and complete the form online; you will be prompted to pay the applicable fee.

   
HCHS Collections
Our processed library, archival, and photograph collections can be searched at the Past Perfect Online portal on our website.  We recommend starting with a keyword search and enclosing your search term in quotes such as "Hiram E. Deats".  Details of searching can be found on the catalog "About" page.
Our older archival or legacy collections have not yet been added to the online catalog. To search the inventory sheets for all processed manuscript collections, go to the archive tab to view the Society's manuscript collections.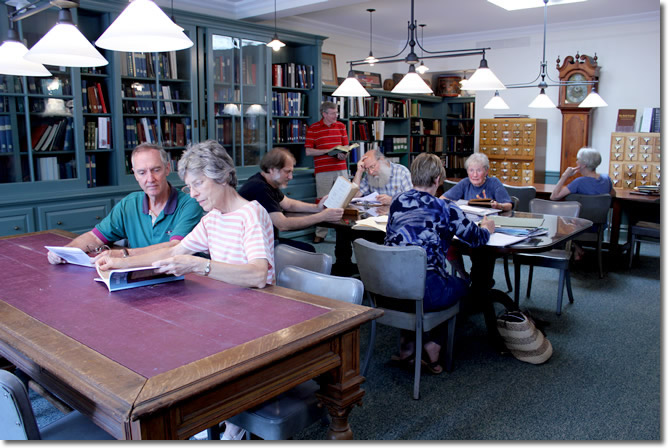 ---
– Download a Genealogy Research Request Form Here –
– Download a Research Request Form Here –
| | | |
| --- | --- | --- |
| OR Sign up online: | | |
---
Reproduction Services
In order to protect original materials the Society prohibits the use of outside scanning and photography equipment other than a non-lighted/non-flash hand held camera.
Photocopying – General:
Copies from reference books for patrons in person, up to 8.5" x 14": $0.25 per page.
Copies from microfilm, up to 8 1/2″ X 11″ $0.50 per page.
Copies of manuscript materials, up to 11" x 17": $0.50 per page.
Photograph Reproduction
Scanned images:
$25.00 per image. Requester will receive one 600dpi .tif file and one 300 dpi jpeg file, per image scanned. The images will not be altered from the original in any way.
Files may be delivered electronically, or via DVD.
Statement on Copyright and Fair Use
The copyright law of the United States (Title 17, United States Code) governs the making of photocopies or other reproductions of copyrighted material. Under certain conditions specified in the law, libraries and archives are authorized to furnish a photocopy or other reproduction. One of these specified conditions is that the photocopy or reproduction is not to be "used for any purpose other than private study, scholarship, or research." If a user makes a request for, or later uses, a photocopy or reproduction for purposes in excess of "fair use," that user may be liable for copyright infringement. This institution reserves the right to refuse to accept a copying order if, in its judgment, fulfillment of the order would involve violation of copyright law.
Publication and Use
Please note that all reference reproductions are for personal/study use only. The possession of a reproduction of HCHS collection materials and the payment of associated reproduction service fees, does not constitute or imply permission to publish or exhibit. It is necessary for researchers to obtain separate, written permission for the publication or exhibition of all material held in the HCHS collections. All licenses are for one use only and each additional instance of use must be separately requested in writing. Usage rights fees, above and beyond reproduction costs, may apply and vary depending on whether a reproduction is for an individual, non-profit, or commercial institution and how it will be used (personal research, publication, exhibition, etc.).
All reproductions must credit the Hunterdon County Historical Society as the source of the image or document.
Written permission is required to use photographic reproductions. Please download form to submit. Thank you! – Download Right to Publish Form –
Save
Save
Save
Save
Research Library Collections
The Deats Notebooks: Representing the private genealogical work done by Hiram E. Deats during his lifetime
Family Bible Records: Photocopies of genealogical data from over 400 bibles
Family Folders: Files on over 1200 Hunterdon County families comprising the correspondence of the Society's Genealogical Committee from circa 1890 to the present
Genealogies: Over 300 published and unpublished genealogies
Hunterdon County Histories: Approximately 300 published books, pamphlets, 1000+ photographs, scrapbooks and unpublished manuscripts read before the Society
Manuscripts Collection: Manuscripts are unpublished handwritten documents, transcripts and photoduplicates and include such items as correspondence, legal documents, diaries, journals, account books, genealogical notes, non-current records of counties, town, institutions, and organizations
Microfilm Collection: Federal Census records 1830-1910 for Hunterdon, Mercer and Somerset Counties; State Census records 1855-1885 for Hunterdon County;
Newspapers, various church records, municipal and county records including all Hunterdon County wills and administrations before 1807, some wills and administrations after 1807, deeds, tax maps and records, histories and genealogies
New Jersey Histories: Extensive collection of local community, township, county and state histories complemented by histories and archives of neighboring states as well as publications of national interest
Newspapers: 50 different newspapers, some in bound volumes, others on microfilm
Tombstone Inscriptions: Records of over 50 cemeteries
Vertical File: Collection of published and unpublished clippings, brochures, pamphlets and other documents of state and local cultural, genealogical and/or historical interest filed by place and/or subject
To view the manuscript collections, click on ARCHIVES/MANUSCRIPT-COLLECTIONS tab.
Save
Save
Save