Bound Manuscripts  Collection
For many years, the Hunterdon County Historical Society made a practice of accepting "Bound Manuscripts" into our collections and treating them as separate items from otherwise donated manuscripts. These "Bound" items are usually exactly that; bound documents that are not published.  They include the day books and accounting ledgers of historical county individuals, businesses, and social groups.  They also include personal diaries, compilations of the research notes of local historians and genealogists, and the draft versions of several published works.   Also represented are bank ledgers, post office box rental lists, Doctor's appointment books, store receipt and shipment lists, and, well, the list is virtually endless.  With over 1,800 "Bound Manuscripts" in our catalogue, and more waiting to be described, these volumes represent a rich source of primary historical data that has often gone  unnoticed. In addition, the Bound Manuscript Collection is also searchable in our online catalog by CLICKING HERE.
Download the Bound Manuscripts Index.
Hunterdon County Historical Society Corporate Archives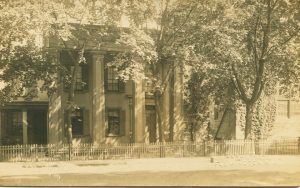 This collection comprises a portion of the corporate record of the Hunterdon County Historical Society, from 1885-1982. Essentially, it is the archive and the history of the organization itself. It includes the Society's foundational documents, by-laws, constitutions, minutes, reports, finances, and filings. It also includes historical papers, speeches, presentations, acquisition records, special projects, and photographs. The collection records the foundation, growth, activities, and debates of the Society. Although it largely covers the activities of the Society itself, there is a good deal of material that may be of interest to historical researchers and genealogists. Download the Container List | Download the Collection Detail
Scrapbook Collection
Over the years, many scrapbooks have been donated to HCHS; some are part of larger collections and are kept together with them, but many are stand alone items that were not previously available to the public.  The scrapbooks may be of current events and news clippings, or family news and photos, with anything in between possible!  The real jewels of the collection are the scrapbooks amassed by William T. Srope.  Mr. Srope not only created scrapbooks of county events with news clippings and pages devoted to certain subjects, but he actually indexed most of his scrapbooks by subject!  Scrapbooks are available for in-person research at the Deats Memorial Library, but due to the delicate nature of these resources, no photocopies are permitted.  Patrons are, however, permitted to make digital images provided a flash is not used. Download the Scrapbook Collection.
Map Collection
At present, the Society has over 300 maps available for research.  Some of these maps are unique are not known to be duplicated anywhere else, particularly those maps of individual properties.  Prior to 2012, most of these maps were stored in a manner that was difficult to access, but thanks to a generous grant from the Hunterdon County Cultural and Heritage Commission, a large portion of the map collection has been foldered, preserved, and made available to the public.
Not all of the maps are available for immediate research at the Deats Memorial Library. Download Rules. More are available for use if previous arrangements are made. Download Map Collection.
Photograph Collection
Presently, the Society has over 6,300 photographic images in our described holdings. Our volunteers are hard at work cataloging these photographs into a system that allows searchable indexing at the Library, making our photo collection far more accessible than ever. CLICK HERE to search the HCHS Processed Photo Collection in our Online Catalog.
Our Photograph Reproduction Policy:
Scanned images:
$25.00 per image. Requesters will receive one 600dpi .tif file and one 300 dpi jpeg file, per image scanned. The images will not be altered from the original in any way.

Files may be delivered electronically, or via DVD.
As more portions of the collection are added, this linked document will be updated.
Newspaper Collection
Presently, the Society has physical, original editions from 41 various Hunterdon County news publications in our holdings. These newspapers are all in hardcopy, either as loose newspapers packed into bundles, flattened, or bound in oversized ledgers. This collection should NOT be considered the same as our newspapers on microfilm collection, which is available in the library. There is some overlap, but this collection is not the same as that one. Some of the newspapers are almost complete runs of county wide publications lasting for over a hundred years, while others are only a few surviving issues of municipal newspapers that only had a brief lifespan. The larger publications, such as the Hunterdon Gazette, Hunterdon Republican, Hunterdon Democrat, etc. are all well represented. Smaller publications such as the Milford Leader, Glen Gardner Avalanche, and other town publications are available as well.
These newspaper publications are available for research subject to several conditions.
If a newspaper publication is available on microfilm in our library, we would prefer if the
researcher use that version first. If that is not suitable, then the original may be requested.
The newspapers are stored in our offsite location. This means same day research is not
available for them; they must be requested in advance.
Newspapers are bulky and fragile; the Manuscript Curator reserves the right to disapprove a request if the newspapers are too fragile for transportation.
For a list of available newspapers by title, CLICK HERE.