(NOTE: Titles in burgundy are links to pdf files of the collection.)
Collection 76. Records of the Shepherd's Star Lodge No. 10, Frenchtown, NJ (1863-1967). The Shepherd's Star Lodge No. 10 of Frenchtown, New Jersey was a subordinate lodge of the Order of Shepherds of Bethlehem and operated from 1898 to 1967. This collection includes lodge correspondence, financial and membership information, constitutions, by-laws, rules of order, written materials and artifacts. See finding guide for details.
Collection 77. Thelma K. Miller Clippings (1939-2000). Collection consists of a selection of newspaper clippings from Thelma Miller of Three Bridges. The first series of clippings are "Old Ink" articles from the Hunterdon County Democrat. The second series is clippings on miscellaneous and varied subjects, most of which concerned the Three Bridges area. Follow the link for the container list.
Collection 78. New Germantown Public School Library Records (1880-1970).  This collection comprises records regarding the New Germantown Public School Library's book holdings and circulation, as well as financial and organizational information.  Located in the rural Tewksbury Township, New Jersey village renamed Oldwick in 1918, the library played an important role in the community for nearly a century. See finding guide for details.
Collection 79. Marjorie Ladd Saxe Papers (1876-1980). The collection comprises published works, Mrs. Saxe's notes and papers on Centerville (Readington Township) history, and photographs of houses and other landmarks in Centerville and people having a connection to the village. See finding guide for details.
Collection 80. Leslie Mike Dairy Farm Records (1935-1954). This collection primarily comprises financial ledger books from the Leslie Mike Dairy Farm. Other items of note consist of a detailed herd record book, dairy-related documents, and two group photographs including Leslie Mike's daughter. These records give insight into the functioning of a typical Hunterdon County dairy in the early to mid twentieth century. See finding guide for details.
Collection 81. Kingwood Grange No. 106 Papers and Records (1882-1987). The collection contains records and papers of the Kingwood Grange of Hunterdon County, New Jersey. The grange played an important role in the life of rural communities, being a combination of fraternal, social, professional, and lobbying organization. In this collection, the minute books of the Kingwood Grange are fairly complete from its founding in 1882 until the last entry in 1987 noting that the grange building was to be sold. Also included in the collection are correspondence, membership lists, administrative records, photographs, memorabilia, and other materials.
Collection 82. Hunterdon County Collector Records (1830). In 1830 the Hunterdon County Collector, or Controller, gave each record of outgoing funds a number and filed them in order on a string. These records of payment provide a picture of what happened in Hunterdon that year. Among other things, the County repaired or built 33 bridges; paid county residents to serve as constables at court; held elections throughout the County, including in Trenton, Pennington and Lawrenceville, which at that time were part of Hunterdon County.
Collection 83. Egbert T. Bush Papers (1848 – 1937). The collection comprises personal papers of Mr. Bush, ranging from the 1870's until his death. The collection includes his diaries, manuscripts of his fiction and essays, research notes, correspondence, financial records, and photographs. In particular, Mr. Bush's articles and research notes provide valuable insights into the history of southern Hunterdon County and many of the families who lived there.
Collection 84. Hiram E. Deats Collection of Photographic Images (1851 – 1902). The collection contains early photographic images (daguerreotypes and glass plate negatives) dating from 1851 to 1902. They include images of people and places in Hunterdon County. Many are unidentified and are thought to be of the Deats family.
Collection 85. Sarah Craig Letters (1862-1869). The collection consists of letters received by Sarah Craig and three sent by her during the American Civil War and the following years. It provides an insight into the life of a well-to-do family during the Civil War. There are 367 letters and notes in 68 folders. There is also an image of Sarah Craig, her letter book from 1863, and a sample of 13 different envelopes.
Collection 86. Hunterdon County Historical Society Postcard Collection, In Process.
Collection 87. Survey of Hunterdon County Historical Sites (1960-1961). The collection is comprised of NJ State Historical Site Evaluation Worksheets. Forty-one sites have been evaluated, and each includes the worksheet, a map and commentary. Photographs have been provided for many of the sites, as have the related negatives. All the sites are located in Hunterdon County.
Collection 88. The Papers of the Flemington Children's Choir School II (1895-2000). This collection is a mixture of records from both the older, original Flemington Children's Choir School (1895-1958) and the newer, revived version (1980-2000) that functioned as an extension of the original "Chorus of the Alumni." It contains a series of administrative and a series of operational records from both versions of the school. There is a series of various items of historic interest from the original version of the school and a small series (two folders) of multimedia performances of the original choir. The largest single portion of the collection is a series of photographic images that capture many of the individuals that were involved with the school between 1895 and 1958. The bulk of the group includes graduation photographs, group posed portraits and individual portraits. An index is provided for almost 500 named individuals that appear in images in this collection.
Collection 89. Records of the Grand Army of the Republic, Post No. 20, Lambertville, NJ, Major C.A. Angel (1870-1933). This Collection consists of documentary evidence of the operations of the Grand Army of the Republic, Major C.A. Angel Post No. 20, meeting in Lambertville, NJ. Documents are dated from 1870 to 1933. The collection contains individual Membership Applications and Reinstatements, Reports of the Adjutant and Quartermaster and state and national reports, journals and proceedings.
Collection 90. Mary E. Sheridan Papers (1948-1993). The collection comprises Lambertville City oaths of office, records of the construction of the Third Ward School in Lambertville, and genealogical research. The genealogical research material includes negatives of newspaper articles, research for inclusion in colonial societies, and other family research. The collection also includes several images of Gov. Jim Florio's visit to Echo Hill Park, Clinton Township. An additional portion of the collection features railroad magazines concerning the Black River and Western Railroad.
Collection 91. James Pyatt Risler Pocket Diaries (1876-1946). The James Pyatt Risler Diaries contain 60 individual diaries. The diary entries chronicle the daily and seasonal life of a farmer. He most often noted the weather and the farm work he had done for each day. He also noted visitations from various people and traveling to surrounding Hunterdon County towns.
Collection 92. Edwin K. Large Papers (1950-1985). This collection is comprised of case files of attorney Edwin K. Large. Specifically, these cases represent his work as Hunterdon County Counsel. Most of the files deal with acquisition of real estate for county roads or county buildings, while some deal with county contracts and some are of a miscellaneous nature. These case files are important pieces of Hunterdon County history that illustrate typical legal actions during the stated time period, as well as provide examples of County land, building, and infrastructure acquisition. – Download Inventory List –
Collection 93. Restored Moving Image (Film): "Money at Work." (1939.) A movie film originally donated in 16mm original format, with a runtime of approx. 24 minutes, this film was preserved and duplicated for the Hunterdon County Historical Society by Film Technology, Inc. through a grant from the National Film Preservation Foundation. The film explores the relationship between banking and news operations, focusing on the Associated Press. Towards the end of the film, there is a transition from AP operations to the office of a "country newspaper." This segment of the film includes interior and exterior shots of The Hunterdon County National Bank and other businesses in Flemington, N.J., as well as local citizens and street scenes of the town. Aside from the film's obvious historical significance, it provides a unique visual glimpse of Flemington in 1939. – Download Film –
Collection 94. Deeds of Amwell Township (1739-1809). This collection contains sixteen (16) deeds describing land transfers in Amwell Township during the 1700's and early 1800's. Each deed is described by Grantor (From/Seller) to Grantee (To/Buyer); date of sale; purchase price if discernible; and lot size if discernible.
Collection 95. Julia Deats Papers (1854-1877). The collection contains ephemera, hair clippings, newspaper clippings, assorted name cards, invitations, "at home" cards, and wedding invitations. Follow the link for details.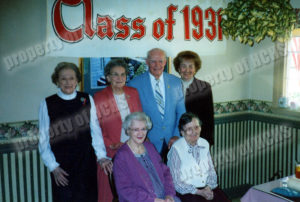 Collection 96: The Ruth and Elizabeth Ent Collection (1928-2001). This collection contains personal papers, photographs, and scrapbooks of Elizabeth and Ruth Ent, of Hunterdon County, NJ, including their education at Flemington High School and subsequent class reunions. Also included are records from Ruth from her years as a volunteer with Christian Endeavor (a volunteer organization) and from her work at the Flemington Egg Auction. – Download Archives Details – | – Download Container List –
Collection 97. Van Fleet Collection (1868-1899). The Van Fleet Collection consists of thirteen (13) day books, also known as business ledgers. They cover the time period from 1868 thru 1899 while the Readington Steam Mill operated, and later when the building was used as a store. The Mill was owned and operated by John Van Fleet, and later included participation by D.G. Thomas. Also included are three (3) ledgers documenting the business activities of Jacob Van Fleet, the son of John, while working as a barber. Follow the link for the finding guide.
Collection 98. George Bushfield Papers(1900-1969). The collection comprises the personal papers of George I. Bushfield from the late 1940's until 1965. It includes correspondence and documents from the Readington Tercentenary Committee; notes, correspondence and articles on Readington Township history; correspondence relating to the Hunterdon County Historical Society; and miscellaneous personal papers. The collection also contains 95 photographs exclusively relating to Readington Township. This includes images of historic homes from 1964 and 1965 as preparation for a proposed book on Readington Township.
Collection 99. Milford Glass Plate Negatives (1870-1910). This collection is comprised of one series of photographic images in 18 folders. Most of the images in the collection are in the form of glass plate negatives (positive copies of the images are available). Many images illustrate the natural beauty of the Milford, NJ area while others depict buildings and infrastructure that were significant in the town's growth and development. See finding guide for details.
Collection 100. William Mattison Collection (1835 – 1879). The four items in this collection document the life of William Mattison. His cyphering book provides a glimpse into the education required to prepare him as a shopkeeper; the road book details his earlier working history, and the daybook demonstrated the daily records required to manage a store. The lease shows the locations of Mattison's shop from 1841 to 1842. See finding guide for details.