The Deats/Thatcher Archeological Collection, An Introduction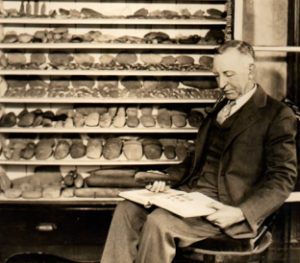 The Deats/Thatcher Archeological Collection is one of the treasures of the Hunterdon County Historical Society. It is a rich and varied collection of Native American artifacts and ethnographic pieces reflecting the interests of two intriguing early 20th century collectors: Hiram E. Deats and John C. Thatcher. The bulk of the collection is made up of the Deats collection, but the artifacts are commingled and are treated as one collection here.
Deats' coin and stamp collections were justifiably famous; his Native American artifact collection is less well known. However, writing in 1917, pioneering New Jersey archaeologist Max Schrabisch discussing New Jersey artifact collections noted:
"In Hunterdon County, splendid collections are owned by Hiram E. Deats, John C. Thatcher, and James A. Kline all of Flemington. Each of these contains a thousand and more specimens of the ancient argillite culture of which Flemington and vicinity appears to have been the center" (Schrabisch 1917:10).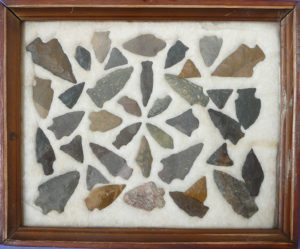 More recently, Norman Wittwer noted that, "The Hunterdon County Historical Society has in its possession two major collections. The John C. Thatcher collection is a display of several thousand pieces collected largely on the Thatcher farm, west of Flemington. The Deats collection, principally gathered by the late Hiram E. Deats on his Minneakoning Farm at Flemington Junction, is properly described as a research collection, it too comprising several thousand pieces." (Wittwer ND).
The collections reflect a period when the collection of Native American artifacts was a pastime for many wealthy individuals. They amassed cabinets of curiosities, which reflected their interests, showcased their knowledge of natural history, and served as conversation pieces. Deats and Thatcher were building their collections at a transitional period in American archaeology where the antiquarian perspectives of the 19th century were being replaced by what historians of archaeology Gordon Willey and Jeremy Sabloff have called the Classificatory/Descriptive Period (1980). Increasingly, archaeologists were organizing their collections with an understanding of the time depth and geographic variety of Native American cultures.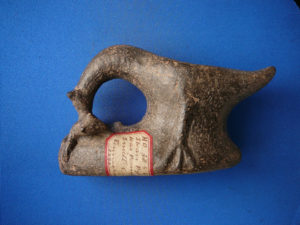 While the great strength of both collections is Hunterdon County, Deats, in particular, acquired artifacts from Europe, Latin America and across North America. Especially noteworthy pieces include ancient stone tools from the Dordogne region of France, associated with distant human ancestors. Other noteworthy items include Danish flint axes—representing a high point in ancient stone tool technology, caches of argillite Fox Creek blades from Hunterdon County, beautiful large bifaces made from Flint Ridge Ohio chalcedony, shell beads from the famous Spiro Mound in Oklahoma, a curious purportedly Mississippian tobacco pipe showing a bird attacking a small mammal, and ethnographic pieces from the Northeast and the Great Plains. The items displayed here are just a few of the more intriguing pieces in the collection. They reflect Deats and Thatcher's fascination with Hunterdon County's rich Native American heritage and retain considerable potential to inform our understanding of the past.
---
References Cited
Lupia, John N. III
2017 Hiram Edmund Deats. Numismatic Mall.com
https://sites.google.com/site/numismaticmallcom/encyclopedic-dictionary-of-numismatic-biographies/deats-hiram-edmund Last accessed 6/30/2018.
Schrabisch, Max
1917 Archaeology of Warren and Hunterdon Counties, Bulletin 18. New Jersey Division of Geology, Trenton.
Wittwer, Norman C.
ND www.co.hunterdon.nj.us/history/Ch1-DawnofHunterdon.pdf Last accessed 6/20/2018.
---
Support for this program is provided in part by a grant from the Astle-Alpaugh Family Foundation. A special thanks to Mr. Bob Sands, Project Manager and consultants Dr. Richard Veit and Dr. Gregory Herman.