Hiram E. Deats, Collector & Historian
The Hunterdon County Historical Society's Hiram E. Deats Memorial Research Library was named for Hiram Edmund Deats who served as the librarian for 67 years. From 1890 until 1957, Hiram Deats collected and cataloged material that was added to his personal library and served as the core of the early collections. Hiram, born in 1870, was able to live the comfortable life of a gentleman farmer and collector in Flemington, NJ. The family wealth was created by his grandfather from the invention and sale of the revolutionary designed "Deats Plow".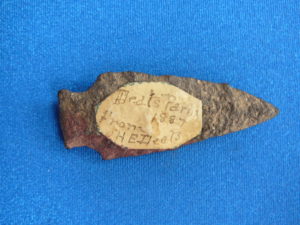 Mr. Deats received his secondary education at the prestigious Peddie Institute in Hightstown, NJ. Upon graduation in 1892, he pursued his interests in philately, numismatics, weather observation, agriculture and genealogy. An avid collector, his interests ranged from stamps, to book plates, to Native American artifacts.
As far as the records reveal, Mr. Deats amassed his archeological collection between 1880 and 1895. Not only did he search and trade for field finds in Hunterdon County, but as an amateur anthropologist /archeologists in the beginning years of this field of discovery, Deats also collected objects from all over the country and the world. He corresponded with other archeologists including Warren Moorehead and purchased artifacts from auction houses in New York and Paris. The collection, that numbers into the thousands, includes many local field finds from the collection of John C. Thatcher, (1874-1957), a gentleman farmer from Flemington.
---
Support for this program is provided in part by a grant from the Astle-Alpaugh Family Foundation. A special thanks to Mr. Bob Sands, Project Manager and consultants Dr. Richard Veit and Dr. Gregory Herman.