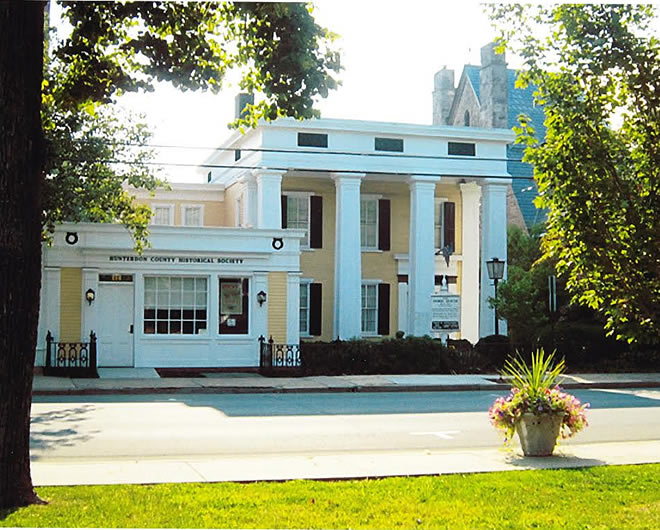 Exciting changes happening at HCHS and Doric House in 2019!
The Hunterdon County Historical Society received a grant from the New Jersey Historic Trust to facilitate a feasibility study to determine alternate uses of the Doric House as part of its 2018-2021 Strategic Plan.*
The Society recognizes the need to expand its audience, to better utilize its historic structures and to better serve the community by looking at the possibility of creating multi-use programmable spaces, exhibition areas, meeting areas and/or additional research space in an effort to better meet its mission to share its collections.
The Society will explore how to best utilize the building without undermining its historic fabric. We will explore the possible re-branding of the Doric House and the Society as an active and vibrant community research center. Our goal is to have a building that enhances the Society's strengths as a historical resource and to expand potential uses of the historic house to grow an audience, membership and future stakeholders.
The Doric House will re-open sometime in 2019-2020.
PARKING is usually available on the street in front of the building, but it is limited to two hours. If you plan more time in the Library or Museum, use the back section of the free municipal lot across the street. Front spaces there are reserved for the office on the street.
*On September 19 the New Jersey Historic Trust Board of Trustees approved $1,307,621 in grant recommendations from the Preserve New Jersey Historic Preservation Fund for 33 projects to save and promote historic sites throughout the state.
The grant recommendations will be presented to the Garden State Preservation Trust at its next meeting and will then require a legislative appropriations bill and the Governor's approval before funds are available.
"We are pleased to recommend funding for preservation planning to many worthy projects in this grant round, and particularly to support sites that wish to develop heritage tourism and improve the visitor experience," said Historic Trust Executive Director Dorothy P. Guzzo. "By saving our historic buildings, we can benefit from their impact on the tourism economy as well as encourage local pride."
Mahlon Fisher Residence (Doric House), Flemington Borough, Hunterdon County: Hunterdon County Historical Society is recommended for $20,625 to help fund the preparation of an adaptive reuse plan and an assessment of the existing mechanical and electrical systems. Constructed in 1845, the building is one of many Flemington houses designed by local architect Mahlon Fisher. It is a contributing resource to the Flemington Historic District.