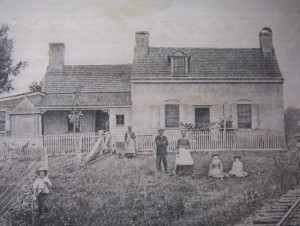 The Hunterdon County Historical Society was founded in 1885 in Flemington to "collect all possible important County historical facts…for future reference"; thus: Collect, Preserve and Share became our mission.
Today the Society has more than 500 members.
In the beginning, the Society operated out of one room on the second floor of the Flemington Public Library, built on land donated by Hiram E. Deats, a civic leader, author, philatelist and historian. Mr. Deats was the Society's Librarian from 1891 to 1963, when he died and bequeathed the organization large numbers of books, manuscripts and genealogical files.  As a memorial to his generosity, the Society named its collection the Hiram E. Deats Memorial Library and opens it to the public at no charge.  It is now housed in a 1940s building matched to the Greek Revival style of the adjacent 1845 Doric House at 114 Main designed by Architect/ Builder Mahlon Fisher (1810-1874) for his own home.
The Society purchased the Doric House in 1969, restored it and moved there in 1972. Today it is a museum furnished with authentic antiques appropriate to the period. It is free and open periodically and by appointment.
A sampling of the Society's collection includes Lenape Indian artifacts, genealogies of Hunterdon families, records of its businesses, churches and civic groups, historical manuscripts, 5,000 printed volumes, photographs, maps, and County newspapers since 1825. They are stored in a two-story, state-of-the-art, environmentally-controlled archives building at 67 River Road in Raritan Township designed to serve archival needs for the next 50 years.