County Chamber of Commerce to Honor Stevens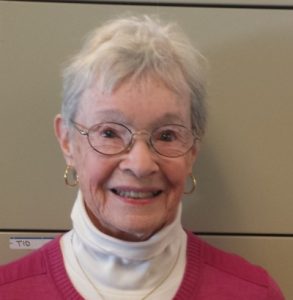 County historian and former Hunterdon County Historical Society Trustee Stephanie Stevens is one of six being inducted into the Hunterdon County Business Hall of Fame at a special induction ceremony on Wednesday, April 27.
Stevens is being recognized as a Distinguished Leader based on her years researching, protecting and promoting Hunterdon County's rich history. She is the author of numerous books, including All Roads Lead to Pittstown, Tillers of the Soil and Beneath These Waters.
Stevens is a retired special education teacher. She was appointed to the Hunterdon County Cultural and Heritage Commission in 1979 and, as Commission Chair, instigated many projects. She was an HCHS trustee for 11 years. She also served as official historian for both Hunterdon County and Readington Township. Stevens served as a member of the New Jersey Historic Trust and founded the Readington Township Museum.
This year's other inductees are:
Pioneer Award: Flemington Cut Glass
Essence of Hunterdon: Prevention Resources
Essence of Hunterdon: Rotary Clubs of Hunterdon
Contemporary Award: ExxonMobil
Contemporary Award: Flemington Car and Truck Company (Founder Steve Kalafer)
The Hunterdon County Business Hall of Fame was established to honor current and past business leaders, businesses and organizations, who have made important contributions to the Hunterdon County business community.
The April 27 induction ceremony begins at 6 p.m. at the Ryland Inn in Whitehouse Station. For tickets and more information about the ceremony, PLEASE GO HERE!