Collection Gems: July 2019
Authored by: John Allen, johninretirement@gmail.com.
After researching this and other Statewide railroad maps I have a new appreciation for the knowledge the many railroad "buffs" have regarding the lines that did so much to build this country! Trying to learn the "genealogy" of the smaller, more regional, short lines is almost a biblical undertaking (there was a lot of leasing, purchasing, mergers, and bankruptcies)… A few hours of research is sufficient to realize you cannot understand the railroads of New Jersey without delving into canal, mining, financial, and political history. This month I'll try to discuss the State's railroad system as it was in 1871, based on Map 294 in the Hunterdon County Historical Society's Map Collection.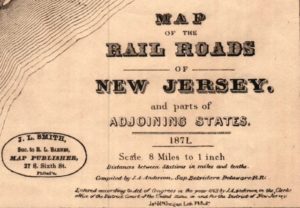 Figure 1 is the title block for the map indicating the map was compiled by J. A. Anderson, the superintendent for the Belvidere Delaware Railroad. Clearly this individual was capable of compiling a thorough map of State railroads. The publisher, John L. Smith, was successor to Rufus L. Barnes of Philadelphia who was very active publishing maps from at least 1830. Upon Barnes' death in 1868, Smith, from his office at 27 South Sixth Street in Philadelphia, continued Barnes' business through the end of the 19th Century.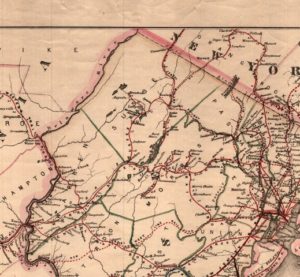 As for railroads, the map supports the fact that New Jersey was still a major source of iron ore for the Country in 1871. There were spur railroads connecting many mines in Sussex, Warren, and Morris Counties to main transportation routes, visible on the map (Figure 2). The Morris & Essex Railroad ran short lines to the Hibernia, Mount Hope, and Ford Mines. The Ogden Mine was served by a short line, appropriately names the "Ogden Mine Railroad", built in 1866 to transport iron ore to Lake Hopatcong, where it was loaded on barges and towed to the Morris Canal, leading to Jersey City after 1839. In the tangled web of business, the Canal was leased by the Lehigh Valley Railroad in 1871. But due to its dependence on water transport, the railroad only operated during the ice-free seasons.
Franklin also was an important mining area and became an important railroad junction. Belleville in Essex County (now a suburb of Paterson) was also a significant mining area. In short, New Jersey was a major source of iron ore production, peaking in 1880, but declining as production from the Lake Superior Iron Range came online.
(An aside… interested parties can visit http://www.miningartifacts.org/NewJerseyMines.html for old photographic evidence of the State's mining history. It's a great site!)
The New Jersey West line was proposed across Hunterdon County, crossing the Delaware River at Milford. But it was never completed. Part of the line was built, and remains in use as New Jersey Transit's Gladstone Branch, running between Summit and Bernardsville.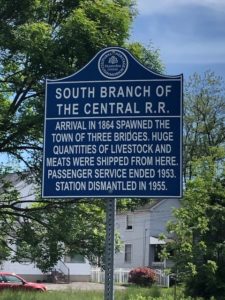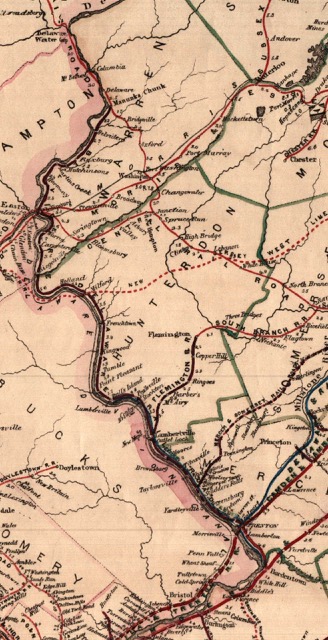 Cross-County lines in 1871 (Figure 3) included the Flemington & Raritan South Branch RR and Central RR. The South Branch Railroad is celebrated in Three Bridges with a Hunterdon County Cultural & Heritage Commission sign (Figure 4), the western extension of which is now the Black River & Western Railroad. When originally operating both were owned by the Central Railroad of New Jersey.
An era known as the "Depression of 1873 – 1879", began with the "Panic of 1873", resulted from a number of causes, including overly aggressive railroad speculation and construction. An overheated economy resulted from the concurrent expansion of steam shipping, railroads, and communication (via telegraph). During this time some 18,000 businesses went bankrupt, including 89 railroads. Unemployment peaked between 8.25% and 14% in 1878.
I mentioned earlier that one couldn't study railroad history without branching off into many directions. The weak economy resulting from the Depression of 1873-1879 led to substantial State debts and subsequent higher taxes. This, in turn, resulted in a resurgence of the Democratic party and the end of Reconstruction. Next month this column will highlight the 1894-95 railroad map and discuss the differences in less than 25 years!