Collection Gem: March 2023
William Bonnell: The Painter of HCHS's Most Recent Acquisition
As many of you who have received our Winter 2023 newsletter know, the Rachel Wolverton Bonnell (1766-1836) painting recently returned home to Hunterdon County. Records indicate her portrait traveled from Hunterdon County in the latter part of the 1800s out west to Indiana, Illinois and, eventually, California.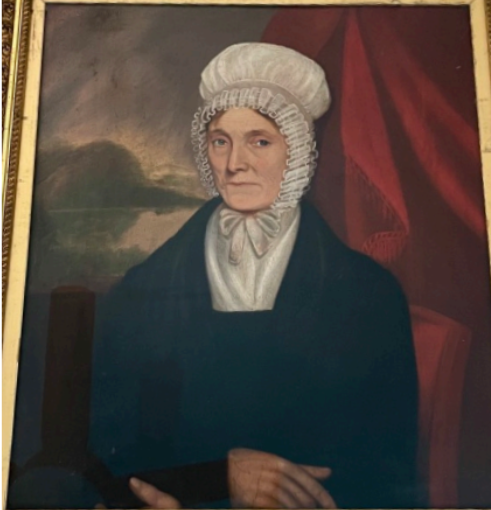 Rachel was painted by her son, one of Hunterdon County's better-known artists: William Bonnell. He was born on Feb. 1, 1804 in Clinton, the fourth child and second son of Rachel and Clement du Mont Bonnell 1766-1836). He was the grandson of Col. Abraham Bonnell, and the family ran the tavern in Clinton where men were recruited to fight for the patriot cause. On June 9, 1836, William married Margaret Hinchman (1813-1901).
Plaudits for Bonnell's artistic work rests upon the roughly 33 paintings he created between 1823 to 1833. Nineteen paintings were signed by the artist, including two in the possession of the Hunterdon County Historical Society: the painting of Rachel and one of Mary Wolverton Bray (wife of Daniel Bray), which currently hangs in the parlor of the Doric House Museum.
Bonnell is considered a naïve painter, who worked in a non-academic linear style. Bonnell incorporated traditional objects – books for example – to indicate the interests and personalities, or clues to the professional or social status of his subjects.
Bonnell's first known paintings are the companion portraits of an unidentified man and woman in 1823. From then on, Bonnell produced paintings, predominantly of portraits of residents from the Hunterdon County area including two portraits of the Rev. Holloway Hunt of Bethlehem Presbyterian Church, William Bonham, J. Ellis Bonham, Ann Warford Bonham, Andrew and Sarah Rittenhouse Bray, Catherine Schnable and John and Catherine Swartly.
The last known portraits positively confirmed to have been painted by Bonnell were done in 1833, when Bonnell traveled to Pennsylvania to paint Andrew Long Yerkes and Eliza Everhart Yerkes.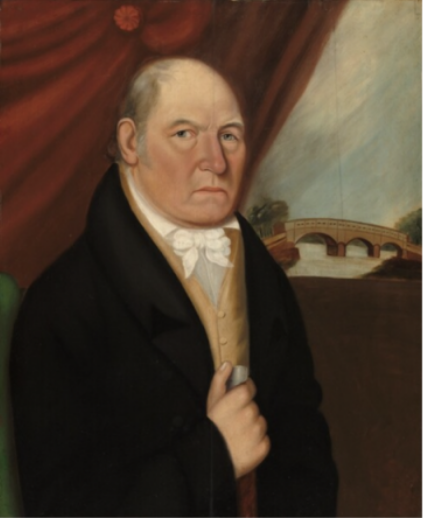 In addition to painting his mother, William also executed a portrait of his father, Clement. That portrait had been acquired around 1925 by noted collectors of American folk art Edgar William and Bernice Chrysler Garbisch. They, in turn, presented the painting to the National Gallery of Art in Washington, DC in 1953, and it remains in the NGA's possession today. The Garbischs also gave the three portraits of Bonham family members (mentioned above) to the Art Institute of Chicago in 1980.
HCHS also has in its possession the painting of the Perryville Inn Tavern sign executed by Bonnell. On one side, the viewer can see a large American flag flapping in the breeze before a landscape of battlements in the background. On the opposite side is a portrait of President Andrew Jackson looking as though he were defying blizzards and red coats. For many years the sign is said to have swung in a frame at the top of a pole standing just north of the tavern, which was near Route 28, three miles west of Clinton and four miles east of West Portal. (The tavern was later moved to its present location, 167 Perryville Road in Hampton.) Dr. I. S. Cramer claimed the sign one day and donated it to HCHS over a century ago.
Two other paintings that came into HCHS's possession in 1979 were believed to be painted by William Bonnell, though there's some debate about that. Adaline Bonnell sold paintings of Margaret Hinchman Bonnell and Clement Hinchman Bonnell (William's wife and son) to HCHS. The paintings were done in the 1840s. Interestingly, the portrait of Clement (which is 32 in. x 14 in.) has a hand appearing in the left of the portrait. Legend has it that that the painting also included William's son, Henry, who died in 1849, and the painting was cut in half. HCHS also has a painting of Anna Hope Foster hanging in its Doric House Museum that may have been painted by William Bonnell too. That painting is unsigned.
William Bonnell died in 1865 and is buried in the Bethlehem Presbyterian Churchyard.
Source for this article include:
Anne Kennedy, William Bonnell (1804-1865): A thesis submitted in conformity with the requirements for the Master's Degree in American Fine and Decorate Art, Sotheby's Institute of Art / University of Manchester, 2010.
National Gallery of Art website, William Bonnell, American, 1804-1865. https://www.nga.gov/collection/artist-info.980.html#bibliography
Andrew Herdan, Union Township: Rural Recollections, 1988.
Perryville, A Place with Only an Old Tavern, Delaware Valley News, May 12, 1933.
Hunterdon County Historical Society Newsletter 6, no. 2 (Fall and Winter 1970).
Hunterdon County Historical Society Newsletter 6, no. 1 (Spring and Summer 1970).
HCHS unprocessed collection, Hunterdon County Historical Society, Unprocessed Collection, Board of Trustee meeting minutes 1979.