Van Etten Family Reunion: Settlers in Hunterdon in 1712!
The Van Etten family reunion was recently held and included a visit to the Hunterdon County Historical Society and visited Van Etta street in Readington. Named for Emanuel Van Etten who was one of the earliest settlers in the area in 1712. A good portion of the attending cousins visiting were descendants from his line.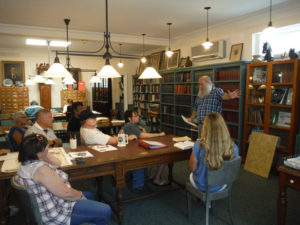 We met Mike Alfano also a Van Etten descendant from another brother of Emanuel and Mike gave us a brief talk about his line and why Emanuel and other Dutch settlers migrated from Kingston, NY to the area.
The reunion was a success and was held in Dingmans Ferry, Pa to honor Captain Johannes Van Etten who had correspondence with Benjamin Franklin in 1756. Franklin ordered Van Etten to build a Fort which was called Hyndshaw and to raise a company of men to protect the area.
---
Save