September Collection Gem: HCHS's Rare Kase Fraktur
By Dave Harding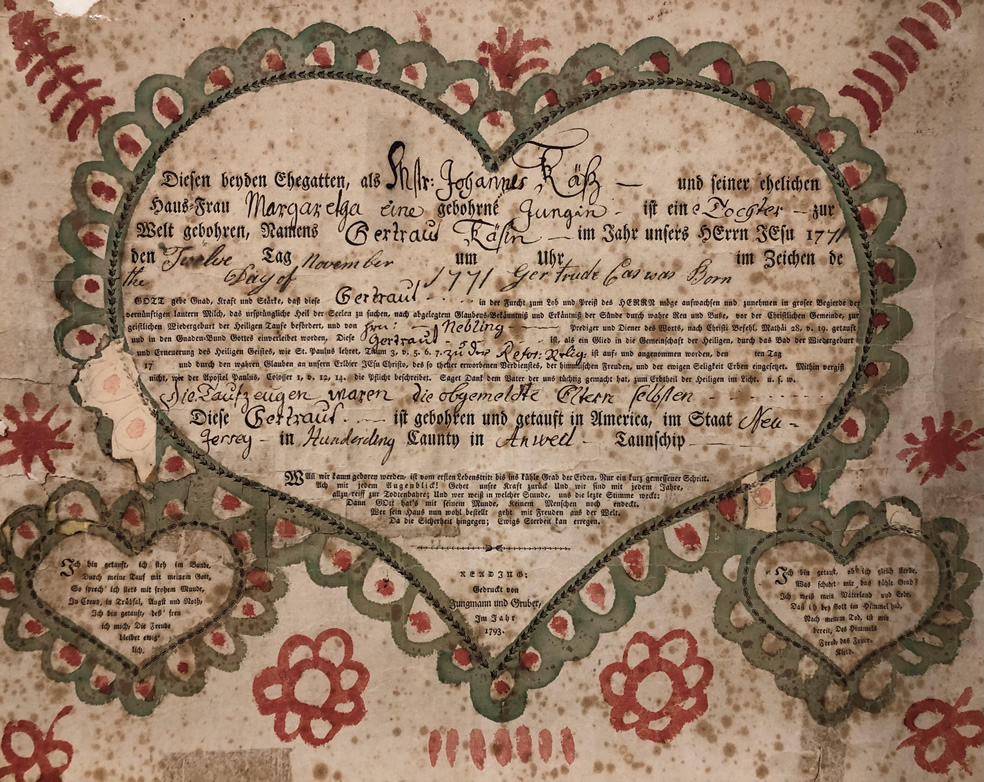 In 1771, Johannes and Margaret Jungin Kase commemorated the birth of their daughter, Gertraut, with a rare piece of folk art, a hand-decorated fraktur.
This beautiful work was acquired by the Hunterdon County Historical Society in 1992 and is truly one of the gems of our collection.
Fraktur (taufschein) is the term used to broadly describe examples of calligraphy and manuscript illumination executed in the German tradition in America. It's a folk art form not often associated with New Jersey. This piece is attributed to Pennsylvania artist Johann Freidrich Krebs (c. 1749-1815), and this could be his only known New Jersey fraktur. Frederick S. Weisser, author of the article The Mad, Lovable World of Friedrich Krebs, wrote that Krebs was the most prolific fraktur creator in America.
Krebs was a Hessian mercenary hired by the British crown to support its cause during the American Revolution. After the war, he remained in the United States, settling in Dauphin County, Pa. He taught school and produced a body of notable fraktur work, including birth and baptismal certificates, marriage documents and other illustrated drawings depicting ancient German popular and religious themes.
Decorated printed taufscheins attributed to him circa 1780-1810 are represented in numerous collections including the Metropolitan Museum of Art in New York, and the Museum of Fine Arts in Boston.
The Kase fractur measures 16 inches by 13 inches and is printed at Reading, Pa., and written in German by Krebs. It records the birth and baptism of Gertraut, daughter of Mr. Johannes Kase and Margareta Jungin (Young) Kase, who was born the 12th day of November and baptized by Reverend "Nebling," pastor of the Reformed Church at "Neu" Jersey in "Hunderding" County in "Anwell" Township. It is hand-drawn with hearts and flowers, lettered and water colored in red and green.