Rare Look at Hunterdon Quilts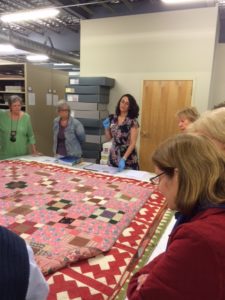 On May 21, quilt enthusiasts and people new to quilts, joined staff of the Hunterdon County Historical Society for a rare opportunity to view the Society's quilt collection. Held at the Society's state-of-the art, climate-controlled archive building on River Road, Dana Balsamo, certified quilt appraiser and quilt historian, pulled 20 quilts from the collection and explored their unique history in Hunterdon County and the nation.
Piled from newest to oldest, Dana and volunteers turned the quilts for viewing. The oldest quilt in the collection shown was dated 1803! Following the turning, visitors were invited to see the Society's library and Doric House Museum in downtown Flemington.