Marfy Today: April 9, 2015
April 9, 2015
The Civil War has finally ended! Well, yes, 150 years ago today. During the past four years I have not given enough attention to the War, perhaps because so many other writers have been attending to it.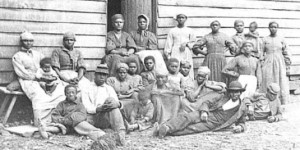 But now I have several articles related to the subject that have moved to the top of my list, starting this week with Egbert T. Bush's article, "Slavery May Have Existed in County Up To Civil War."
This connects well with the last issue of the Hunterdon Historical Newsletter, which featured an article on the last slave in Franklin Township. You can view the article by Lois Crane Williamson online here: "The Last Slave in Franklin Township"
While working at the historical society recently, I came across a small book containing the Constitution and By-Laws of the Democratic Club of Delaware Township, created on July 4, 1863. It sheds a disturbing light on the attitudes of many Hunterdon people toward the institution of slavery. So I wrote an article about it that will be appearing in the next issue of the Hunterdon Historical Newsletter. Not sure when it will come out.
This week's Query: Another mystery farm. Can anyone identify this beautiful place?
Also this week I posted a short review of an impressive article on the history of the NJ Proprietors that was published in the Genealogical Magazine of NJ. This one is a real keeper!
Joseph Klett, "Understanding New Jersey's Geography in the Proprietary Period."