Bound Manuscript Collection Database Release
The HCHS Archives is pleased to release a database of the contents of our Bound Manuscript Collection.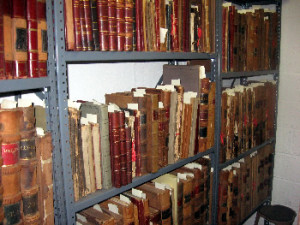 The Bound Manuscripts make up a significant portion of the holdings of the HCHS Archives. By our definition, "Bound Manuscripts" are unique manuscript records that have been bound together, usually in the form of a book, a ledger, or a notebook. The record types found in the collection include day books and accounting ledgers of historical county businesses, organizations, and individuals. The collection also includes minute books of religious, community, and social organizations. Still other examples are personal diaries, compilations of research notes of local genealogists and historians, draft versions of local histories, bank ledgers, physician's appointment books, school registers, dues books… and many other types. There are over 1,600 volumes in the inventory for this collection, and these volumes represent a rich source of primary historical data that has often gone unnoticed here at the HCHS. Feel free to look over the list, and see if there are any volumes here that match your research interest! Download the Bound Manuscripts List.
Save