Lambert B. Lake; the Last of his Kind
by David Harding, Administrator, HCHS
In all likelihood, Lambert B. Lake was the last of his kind.
Despite the rise of the motorized age, Lake continued plying his trade as a wheelwright, operating his shop in Copper Hill until he passed away in 1943 at the age of 69.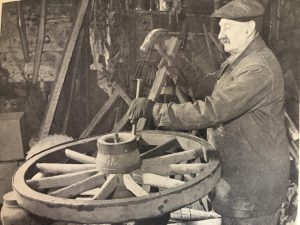 Wheelwrights were craftsmen who built or repaired wheels for carts, wagons and coaches. The word is formed from the combination of  "wheel" and the word "wright," which is derived from the Old English word "wryhta," meaning a worker or shaper of wood.
During the 19th century, wheelwrights were important artisans in Hunterdon County. In his book Rural Hunterdon, Hubert Schmidt notes, "In 1860 . . . there were seventeen carriage shops with fifty-nine men, and twelve shops with twenty-two employees making wagons and carts. By 1890 the concentration of the manufacture of wheeled vehicles in larger urban centers had drained many wheelwrights from rural regions, but the industry persisted in Flemington, Lambertville, Frenchtown, Clinton, Califon, Lebanon, Whitehouse Station and Ringoes."
Lake was born in Sand Brook on July 1, 1874 to Harris and Emma Busenbury Lake and lived at Copper Hill for six decades.
He operated his old-time blacksmith and wheelwright shop despite the changing times. According to the Hunterdon County Democrat of December 2, 1943, Lake had been enjoying an increase in business since World War II commenced, as farm wagons came back into more general use. "With the advent of the present world conflict and its check on the use of motorized equipment, business stepped up apace and restored Mr. Lake's hopes that the horse would again come into its own."
Lake was survived by his wife, Sarah Lavinia Thorn. The couple were married on Nov. 22, 1930 by the Rev. Edward C. Dunbar of the Flemington Baptist Church. Census and marriage records indicate Lake was previously married to a Mary Hawke, and they had two children. Lambert Lake died on Nov. 14, 1943 and was buried in Prospect Hill Cemetery in Flemington.