Historical Artwork Donated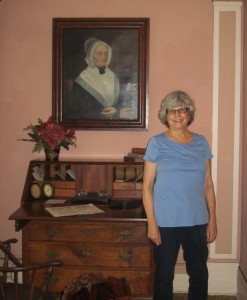 A c.1830s portrait of Anna Hope Foster (shown here) was recently donated to the Hunterdon County Historical Society by her great-great-great-granddaughter, Molly McKaughan of Upper Montclair, NJ.

Anna Foster was born in 1772 to Adam Hope and his wife Sara Dunham, whose family had been in Clinton, NJ since around 1760. Anna married Thomas Foster in 1793; she died in 1865 at age 93 and is buried at the Bethlehem Presbyterian Church in Grandin. The couple's son, Robert, founded a bank in Clinton. The donor, Molly McKaughan, is a published poet and non-fiction writer and a special program officer at the Robert Wood Johnson Foundation in Princeton.
There is some speculation that the unsigned portrait was painted by William Bonnell (1804-1865) a well-respected artist who lived and worked in Clinton and is buried in the same graveyard as Anna Foster. The portrait now hangs in the parlor of The Doric House at 114 Main Street in Flemington above a Chippendale-style desk built by her father, Capt. Adam Hope, for Dr. John Grandin, a Revolutionary War Navy surgeon from Hunterdon. Capt. Hope also served in the Revolutionary War in the vicinity of the Battle of Monmouth, but was not engaged in fighting. It is said that his wife fed 40 soldiers of General Lee's army when they passed by the Hopes' home.
The Doric House, built in the Greek Revival style in 1845 by Mahlon Fisher, is open at no charge. Tours may be scheduled by calling 908.782.1091.