Historic Mile Marker Back in Storage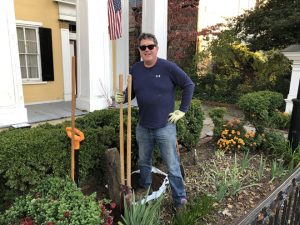 HCHS Board of Trustees member Howard Thomas digs out the "21 Miles to Trentown" marker that has been displayed in front of the Doric House for the past decade.
The story of how this mile marker became part of HCHS's collections begins with an eagle-eyed bicyclist in the early 2000s. While pedaling along Route 579, the bicyclist spotted the marker beneath some brush and contacted former HCHS Trustee Stephanie Stevens (who also was serving as Hunterdon County Cultural and Heritage Commission's chairperson at the time). County officials removed the marker from the roadside when the decision was made to widen Route 579. HCC&H donated it to HCHS about eight years later.
The marker had been on display in the Doric House garden since April 2011. Its removal to our Archive Building will ensure that generations to come can appreciate this unique artifact.