HCHS Archives Releases New Collection No. 143, the Dorothy Stratford Papers
This collection was assembled by Dorothy Ada Agans Stratford (1925-2011) of Bound Brook, NJ. Mrs. Stratford was a longtime member and sometimes officer of the New Jersey Genealogical Society. As an avid local historian, genealogist, and author and co-author of local history works she amassed a significant collection of original manuscripts and primary source information in her lifetime. In addition to many other organizations to which she contributed her talents, Mrs. Stratford was also a member of the Hunterdon County Historical Society.
After Mrs. Stratford's passing, Fred Sisser III (another long time member and volunteer at HCHS) was named as an Executor of her estate. Mr. Sisser has ensured that the distribution of Mrs. Stratford's papers has been as close to geographically accurate as possible. This collection was the first of several that were donated to the Historical Society from the estate of Mrs. Stratford, because the materials therein relate to Hunterdon County.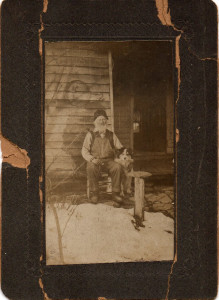 The first part of the collection is a series of correspondence between Hiram E. Deats, the noted Hunterdon County genealogist, and Russell B. Rankin, the longtime officer and editor for the New Jersey Genealogical Society from 1940-1943. There are also a limited number of documents and photographs of the Andrew Agens family, of Califon and later West Portal.
In addition, the collection includes an annotated copy of "Tombstone Inscriptions, Readington Township, Hunterdon County." And finally, there are two photographs of the Bloom family (Ella Bloom and Grandfather Bloom) and a photograph of Stacy Race.
While not related to each other, these materials should still prove interesting to local historians, particularly anyone descended from or researching the Bloom, Race, or Agens family. Subsequent donations of Mrs. Stratford's papers by Mr. Sisser will be described, arranged, and released to the membership and public in the future.