HCHS Archives Posts Coryell Papers Inventory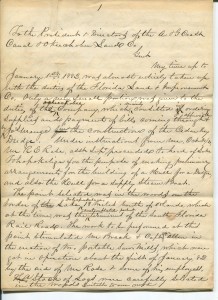 The HCHS Archives has recently scanned and posted a copy of the inventory of Manuscript Collection No. 45, The Coryell Papers, to our website. This is one of the Society's more under appreciated collections, and it includes correspondence, legal documents, wills, certificates, financial records and other items of an ephemeral nature. As one might imagine, the principle subject of the material is the Coryell family of Lambertville.
Spanning a large amount of time (1733-1984), this major collection is comprised of original documents and later family research, and is a very attractive source of information for those researchers who are interested in the genealogy of the Coryell family and the history of Lambertville. Looking through the collection, it is quite apparent that the two are inseparable.
The collection has several highlights, including documents from Emmanuel Coryell in the early 18th century, correspondence and legal papers from Martin Coryell in the Civil War era, and correspondence and genealogical notes from P. Ingham Coryell in the 20th century. The collection truly links generations of the Coryell family across large spans of time. We hope that having the inventory posted online will inspire a new generation of researchers to investigate the past generations of this influential Hunterdon family.