Collection Gems: September 2020
Authored by Bob Leith
This month's multifaceted Collection Gem consists of original correspondences and drawings by James Watt to John Hall, taken from Collection 31 "the Capner Papers". Hiram Deats who acquired these documents in 1892 from the attic of a Capner descendant, wrote in a letter to Julian Boyd, Librarian at Princeton University:
"My best lot is correspondence, 1785-1815 between members of the English settlement here and their relatives and neighbors in England. It was engineered by John Hall who was a C.E. He was chief mechanic for Thomas Paine…" (This letter is in HCHS Collection 31; Box 1; Inventory & Notes folder.)

Signature of James Watt from HCHS Collection 31; Oversized Folders; Folder 1165.
This is the same James Watt whose name appears on light bulbs, energy bills and electric meters. Scotsman James Watt, friend and colleague of Joseph Priestly, was an inventor and a natural philosopher with a keen interest in Chemistry. Most think of James Watt as an engineer who helped modify and improve the steam engine during the industrial revolution, or the man who tried to quantify units of energy, i.e. a Watt or horsepower as units of work. Watt was a Chemist whose understanding of the energy captured in water's phase changes was applied to more efficiently power 18th and 19th century steam engines. James Watt partnered with Matthew Boulton to form Boulton & Watt the company who pioneered the manufacture of more efficient steam engines in England.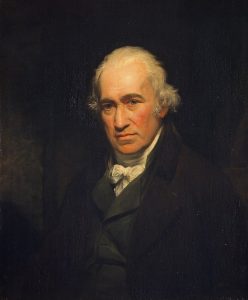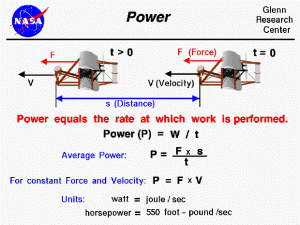 John Hall, uncle and patriarch to the immigrating Capnerhurst, aka Capner family, was born in 1736 in Leicester, England and immigrated to America in 1785. John Hall kept records, drawings and diaries and a library of his life experiences; much of it our Collection 31. John Hall and the Capner family settled in Flemington. Jack Hall and Uncle John Hall are buried in the Flemington Presbyterian Church Cemetery along with other Capner relatives. (John Hall also became friends with Thomas Paine and we have a letter from Paine to John Hall in this same Collection 31; Box 2; Folder 78.) Before John Hall came to America in 1785 he put his nephew John Hall Capnerhurst, "Jack" through formal schooling in Civil engineering. After his schooling "Jack" worked for Boulton and Watt as a mechanic installing steam engines. In our example the Walker Foundry steam engine.
Below are links to Youtube to see a similar engines that Jack Hall helped install. The Ford Museum in Dearborn, MI also has a very good replica.
Recently Trustee, John Matsen loaned me a book "The Selected Papers of Boulton & Watt" by Dr. Jennifer Tann, 1981. On page 171, in a transcription of a letter from James Watt to his partner Matthew Boulton on Jan 7, 1782 it reads: "I write to Mr. Hall to night informing him that I have sent the drawings to you and that you will advise Mess. Walker of our opinion about the casting them themselves… N.B. I have sent drawing for the Gudgeon to Mr. Hall."

Detail of Foundry Specifications: Collection 31; Oversized Folders; Folder 1205 (Note the size of the piston rod….12' 2" long.)
We have the very letter mentioned above, i.e. foundry specification that James Watt wrote to Mr. Hall as well as the Gudgeon Drawing.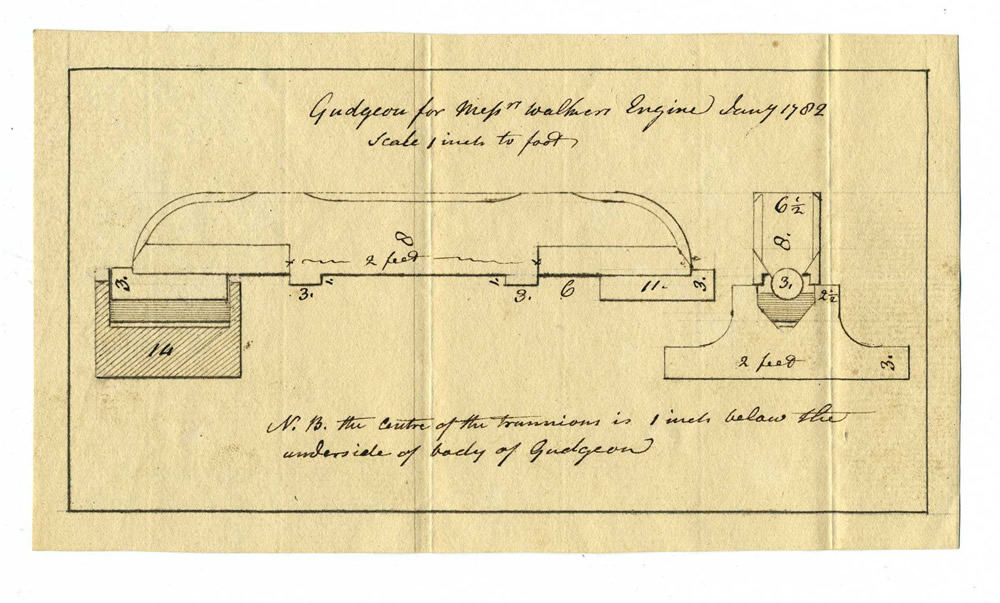 Gudgeon Drawing: Collection 31; Oversized Folders; Folder 1205
So I invite you: engineers, scientists, draftsman, artists, historians and thrill seekers to come see the originals. Contact our Administrator, Dave Harding, to make an appointment upon our reopening.