Collection Gems: November 2016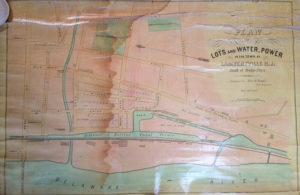 Continuing to highlight the Hunterdon County Historical Society's "local" map holdings, this month we feature Map #47 of Lambertville, dated 1857 (Photo 1). The map shows a "Plan of Lots and Water Power in the Town of Lambertville, N.J. South of Bridge Street". Even the title reeks of history: "Water Power"! (Sadly, water also damaged the map slightly at some time in the past…)
The town was founded in 1705 and prides itself today as "The Antiques Capital of New Jersey". As Coryell's Ferry it served as a crossing point for the Continental Army during the pursuit of the British Army – following the latter's abandonment of Philadelphia – culminating in the Battle of Monmouth on June 28, 1778. Being the terminus of the York Road in New Jersey, ferry service at the crossing point was frequently used by passengers traveling between New York and Philadelphia. Renamed Lambertville in 1814, the town experienced a financial boom when the Delaware & Raritan Canal opened in 1834 and connected it to Trenton.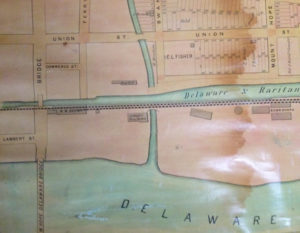 Lambertville was incorporated as a town in 1849. By 1851 the Belvedere Delaware Railroad was built along the Canal. Its tracks and shops are shown on the map (B.D.R.R.). Interesting, too, is the depiction of the "R.R. Depot" (Photo 2), which remains and is now the Lambertville Station restaurant (Photo 3), inside of which there are still vestiges of the Station's days serving the Bel-Del.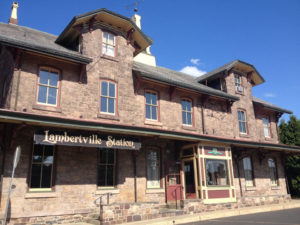 At the time the map was created, a railroad bridge across the Delaware River connected the town with New Hope, PA. and Lambertville had a population of perhaps 2,500 souls (Wikipedia: 1850 Census – 1,417; 1860 census – 2,699). The bridge – since replaced – is now open to vehicular traffic and carries Bridge Street over to Pennsylvania. Much of the town became a National Historic District in 1983.
The street grid provides one of the more striking aspects of this map: many street names have been changed since the map was published in 1857:
Present day Canal Street was named Mount Hope Street and extended along the south side of the Mount Hope Cemetery.
Ely Street was renamed Franklin Street, but retained its original trajectory.
Modern day Boozer Street was once Holcombe Street and extended northward to Swan Creek along the east side of the Mount Hope Cemetery.
Commerce Street was renamed Kline's Court.
Highland Avenue used to be named Wakefield Street and extended southward to Main.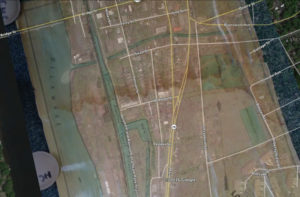 Photo 4 shows several of these changes by overlaying the 1857 map on a modern satellite image in Google Earth.
If your ancestors lived in Lambertville and you are fortunate enough to have an address from the 1850s, this map will be a great resource for you!
Save
Save
Save