Collection Gems: May 2019
Political thought often dominates many of the boundaries represented on maps (think: "gerrymandering"). In November 2018 I discussed the fact that Map 56 revealed the results of President James Polks' "Manifest Destiny" philosophy. Political and military actions resulted in the significant enlargement of the United States of America. This month I hope to demonstrate that "borders" are repeatedly revised even at a local scale.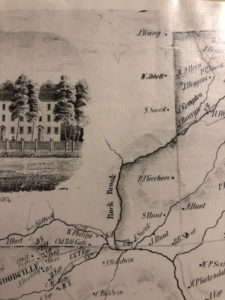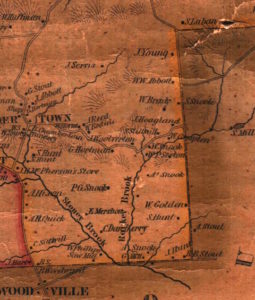 Map 290 in the Map Collection represents Hopewell Township's 1840 boundaries. You may recall this municipality was part of Hunterdon County until Mercer County was created on February 22, 1838. At that time Ewing Township, Lawrence (formerly Maidenhead) Township, part of Hopewell Township, and Trenton City were removed from Hunterdon and, together with parts of Burlington and Middlesex Counties, Mercer County was created. In the 1840 map the northern border represents the division of Hunterdon and Mercer Counties. Noteworthy is a portion of the county line separating the two counties: specifically, the fact that "Rock [sic] Brook" is shown as the dividing line (Figure 1). Current maps show Stony Brook Road and County Route 518, the Hopewell-Lambertville Road, form this border. In fact, maps as early as the Cornell 1851 Hunterdon County map (Figure 2) show this dividing line. I've been unable to find why such a change was made.
At an even "smaller" level, the western boundary of East Amwell Township has changed frequently, as illustrated in Figures 3 through 6. Notice that none of these maps shows the same boundary lines for Raritan, Delaware and East Amwell Townships! On the 1851 map Old York Road was mapped as the boundary between East Amwell and Raritan until it reached the Ringoes-Trenton Road (the modern extension of Boss Road to State Route 31). Thereafter the road separates East Amwell from Delaware Township. Notice, too, that the railroad station was situated in Delaware Township on the 1860 and 1873 maps, but is in East Amwell Township on the 1902 map. The westward extension of the East Amwell Township line illustrated in Figure 6 is consistent with the modern line between East and West Amwell Townships, and Delaware Township. As before, the purposes behind these revisions is not known to me, but inspection of Figure 6 shows the boundary is extended westward to include single residences, marked with the red arrows.
And what about Holland Township? How were people affected when Holland was formed from Alexandria Township on April 13, 1874, reincorporated into Alexandria on March 4, 1878 and separated again on March 11, 1879? Did Holland Township have a municipal organization during the nearly 4 years it was a separate entity, or did it share the existing political organization of Alexandria Township? They must have been interesting times!