Collection Gems: March 2017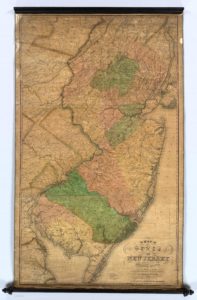 While perusing the Historical Society's map collection I came across Map 8; an 1828 Map of New Jersey. The folks at the David Rumsey Map Collection DavidRumsey.com have granted their kind permission to include their scan of the full map shown in Figure 1. (The Society's map is a little darker and doesn't photograph as well). It shows Hunterdon County prior to the establishment of numerous Townships and Mercer County, but it's more remarkable because it identifies the location of each "Mill or Manufactory", Church, Furnace, Forge and Tavern in the State! (The map legend is Figure 2). It would be great to identify all the locations shown in Hunterdon County and beyond, if possible. (This is where you come in…)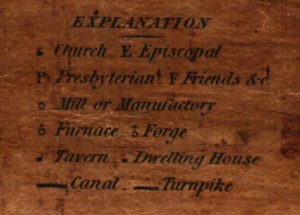 Please download and inspect the close-ups provided as Figures 3 through 5 and share your "local history knowledge" in the Comments section on the Society's Facebook page. These comments will be visible on the Society's website, too! Since businesses (but less frequently churches) often changed their names, a rough decade for the identities you suggest would be helpful.
As a resident of East Amwell, my guesses of some location identifications are shown in Figure 5. Note the 1738 First English Presbyterian Church is shown at its former location – rather than its present one in Reaville. Also notice the First German (Larison's Corner) Church has a "D" next to it. Snell's 1881 book refers to the "High Dutch Congregation at Amwell" so it appears to have been a Dutch Reformed, rather than Presbyterian, Church. There are also taverns on the banks of the "Nachanic" and in the village of Rocktown; does anyone know their identifications? And is the tavern in Ringoes The John Ringo Tavern? There were no forges or furnaces present in this part of the County.
I invite you to challenge (and correct) these identities and add your own wherever you can. Come back often to this site – and our Facebook page – to see what other folks have contributed about the map. And while you're inspecting the map, notice the former names of some population centers: Sodom, Potters, Boar's Head, Rittenhouses, Dogtown, Buchanan, New Market… You might want a copy of Phyllis D'Autrechty's "Hunterdon County Place Names" booklet on hand! Thanks in advance for your assistance!
Save