Collection Gems: December 2018
Thanks to John Allen, the founder and driving force behind Collection Gems, for offering me the opportunity to write about another fantastic survey map found in the HCHS collection.
This Collection Gem is a survey map from HCHS Collection 164 – "David Lowe Collection": Oversized Folders – OV1 – "Survey map of Verplanck Farm."  The map is 13 3/8" x 16 ¼".  The deed relating to this survey map is from Book 2, Page 188 in the Hunterdon County Clerk's office for 648 acres; Samuel Verplanck and his wife Judith to Hugh Exton and James Choyce on February 3, 1799.
Don Cornelius, our manuscripts curator, asked me to scan the map knowing my love of old survey maps.  I am grateful to Don for the request since it is a beautiful map with color washes, good line weights, clear artistic lettering, and written metes and bounds on the lower left of the drawing.  These qualities coupled with the time frame of 1799, makes me think it might be a Nathaniel Saxton survey….more on that later.  For more on Nathaniel Saxton please visit:
https://goodspeedhistories.com/nathaniel-saxton-esq/
https://goodspeedhistories.com/saxtonville-taverns-first-innkeeper/#more-3827
https://goodspeedhistories.com/the-rake-cemetery/   (This article has another survey by Saxton)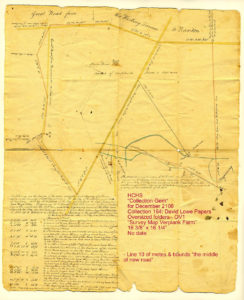 With all this great information on the survey map it was relatively easy to locate the map on current day tax maps; it identified the "Great Road from the Hickory Tavern to Raritan" and the "Great Road from the Frame Meeting House to Pitts Town".  It seems that by 1800 the surveys were becoming very accurate, in that, it overlaid onto current tax maps very well, with just a slight rotation to account for variations in magnetic North over the years.  By 1800, gone are the days of the early 1700's when a survey could be "over or under" by a few hundred acres. See Figure 1.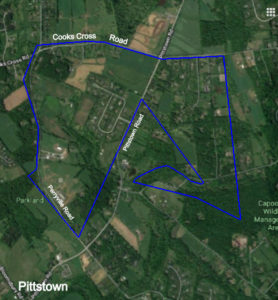 Also interesting is the "new road" (Line # 10 – S 36..45 E  – 39.50  – "opposite the middle of the new road"…see notation on the Collection Gem map )  shown as a straight line to Pittstown.  Also note the nearly north alignment of "The Old Road" by the Twining House on the Collection Gem map.  This "new road" was replaced by the current road alignment by the year 1851, see Cornell map.  The current alignment for part of the road is in the Clerk's Office, "Road Books"-  5-271 with a map 20-10-21 from "Original Petitions" the HC Clerk's Office as a supporting document, thanks to Sue Bennett for her help. See Figure 2.
Back to Nathaniel Saxton.
Compare the Collection Gem from this month, "Verplanck Farm Survey Map" with another known Nathaniel Saxton survey map shown below.  The one below is one of the most beautiful survey maps in the HCHS collection; an 1804 Survey Map signed by Nathaniel Saxton  (HCHS Collection 57 – HCHS Part V – "Survey Map – Lands of Daniel, John & William Coxe, Col. Daniel Coxe & Joseph Hilby – Oxford, NJ, Sussex County, 1804."  24" wide x 19.25 high )
Does it look like the same surveyor's hand?
Perhaps this 1804 map will become a future Collection Gem and will feature a modern day overlay of roads.
Until then here is a challenge to all the readers who love to search deeds:  a free Hot Dog Johnny's tee shirt to the first person who provides a deed search linking Hot Dog Johnny's on Route 46 to this 1804 survey map. Both survey maps will be available for viewing at the HCHS Library during normal library hours till February.