Collection Gems: April 2019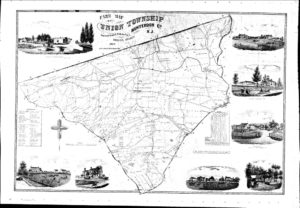 The year 1860 was apparently one in which a concentrated effort was made to map many of the County's farms. The Historical Society has 1860 "farm maps" for Clinton, Alexandria and Union Townships, as well as Hillsborough Township in Somerset County (Maps 213, 214, 211 and 41), generally film negatives for Union, Clinton, Raritan and Alexandria although "paper" copies are also available for a couple municipalities. In 1850 the Raritan Township farm map was previously published (Maps 51, 52, and 212). The subject of this Collection Gem is a positive photograph of the Union Township map, Map 211 (Figure 1), compiled by Black Labs Studio, courtesy of Bob Leith. The Township was fairly small and can be compared with the 1860 Hunterdon County map; both include the names of municipality's residents. Based on the 1860 Federal Population Census, Union Township had fewer residents (1,219) than all Hunterdon County municipalities except West Amwell Township.
Figure 3A comparison of a portion of the Township (around Pattenburg for example) on the County map (Figure 2) and the Farm Map (Figure 3) is interesting for several reasons. The latter, unsurprisingly, shows farm tract boundaries which the County map excludes. But including these on the County map would make it illegible! In favor of the County map, shops, churches and primary residences are included. Although many of the "outbuildings" were excluded from the County map, they are shown on the larger scale farm maps. If a farm map is unavailable for your municipality, the County map should be useful unless you are looking for a farm's boundaries and its outbuildings.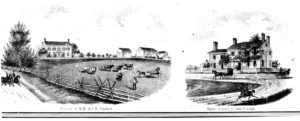 An additional advantage to the farm map is their inclusion of artistic renderings of some subscribers' residences in the marginalia (Figure 4). It also contains a list of subscribers (including those whose farms /residences are not rendered in the marginalia art) and a distance chart to surrounding geographical locations.
As an aside, it's interesting to note that both maps misspell Pattenburg (Patentburg versus Pattenburgh), unless the town name was spelled differently in 1860. My copy of Phyllis B. D'Autrechy's "Hunterdon County Place Names" doesn't suggest this, showing the only earlier name as Calvin's Mills.
Back to population… If you subscribe to Ancestry.com, Union Township was sufficiently small that an investigation of the 1860 Census can be very interesting, providing an opportunity to better understand pre-Civil War community life: where residents attended Church, had their horses shod, their grain milled, etc.. I took a quick look at page 8 (of 31) for Union Township in the 1860 Census and there was Nathan D. Smith, a 27- year- old shoemaker. His neighbors included 58-year-old farmer Aaron Streeter and Andrew Streeter (the farmer's son?), a 30-year-old blacksmith. All three families are shown on both maps, as are the blacksmith and shoemaker shops and Aaron's farm land. So, if such a study interests you, the supporting materials are available online and at the Hunterdon County Historical Society.