On Tuesday, March 20, 1894, Charles Bader of Newark married Violet "Finettie" Hervey of Ringoes. Their nuptials attracted nationwide attention and were reported on the front pages of newspapers across the United States. Which leads to a simply question: Why?
For the answer, we turn to one of the many newspaper accounts for the story, this from the Akron-Beacon Journal:
It is not often that a bride and bridegroom appear at the altar rail clad in bicycle costumes to be united for life. That was the case . . . in Newark, however, when Charles Bader, a well known bicycle rider of that city, and Miss Violet Hervey of Ringoes were married.
Mr. Bader last summer spent most of his idle hours on his wheel, and when he had the time took long jaunts through the country. One of his trips led him to Ringoes, a little village back in the country.
While in the village he staid (sic) at the farm of Mr. Hervey. During his visit he became acquainted with the farmer's daughter, Miss Violet, and fell in love with her. Needless to say, it was not long before his wheel bore him toward Ringoes again. . . . Miss Violet learned to ride and became as fond of riding as was Mr. Bader. Mr. Hervey liked the young wheelman, and when he was asked for his daughter's hand he consented.
Tuesday night the young couple wheeled to Newark. The Rev. Mr. Hapwood, the pastor of Calvary church, had been engaged to perform the ceremony and was waiting when the couple dismounted in front of the church door. Miss Hervey waited while Mr. Bader chained the wheels. Then they entered the church and walked to the pulpit rail. There the ceremony was performed, and they walked out, remounted and rode away on their wedding trip.

A few notes to add to the story: Bader, who was born in Sept. 1866 in Germany, lived at 169 Mulberry St., in Newark at the time of the wedding. Fans of the National Hockey League's New Jersey Devils may recognize that the site is now occupied by the Prudential Center. Bader worked as a bartender for many years. Census records indicate that the couple never had children.
By 1910, Bader's parents, Gottlieb and Catherine, were living with the couple. Charles passed away in 1912, and is buried in Newark's Woodland Cemetery. Records indicate that Violet remarried later that year to Frederick Bachmann. There are no accounts that this wedding occurred on bicycles, a motorcycle or any other wheeled contraption.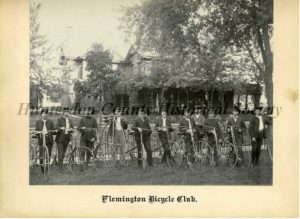 The newlyweds would have fit in rather well with this group — the Flemington Bicycle Club.
(Photo of Flemington Bicycle Club from HCHS Photograph Collection, Px010)