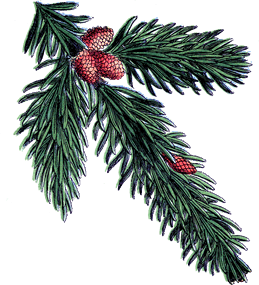 The 1845 Greek Revival Doric House Museum at 114 Main Street in Flemington opens its doors for holiday tours on Sunday, December 7, the day of Flemington's parade. House tours are from 1:00 to 4:00pm; the parade starts at 5:00pm.
The Doric House, maintained by the 129-year-old Hunterdon County Historical Society, also will be open on the following weekend, December 13 and 14 during the same hours. There is no charge. Holly Trail ticket holders will tour the house on December 5 and 6.
Although the imaginative holiday décor adds much to both the inside and outside of the house, guests will have more to see than just beautiful decorations created by the Community Garden Club of Hunterdon based in Whitehouse and the Hunterdon Hills Garden Club of High Bridge. The high-style Greek Revival house is aglow with new interior paint. There is also a new exhibition space opened on the second floor with an exciting display of special-occasion clothing and textiles from the Society's collection, selected by Textile Curators Judy Grow and Lynn Burtis.
Both the new paint and the exhibition space were made possible by grants from the Hunterdon County Historic Preservation Trust and The Astle-Alpaugh Family Foundation, respectively.
Architect/ Builder Mahlon Fisher (1810-1874) built the house as his own private residence. The Society restored it and moved there in 1972. Now a museum, it is furnished with authentic antiques appropriate to the period, many of them made in Hunterdon.