New Release: The John Schenk Papers I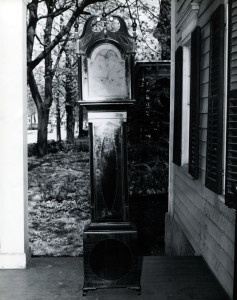 The Hunterdon County Historical Society Archives is pleased to announce the release of our latest archival collection: The John Schenk Papers I.
Due to the popularity of the presentation on NJ clocks and clockmakers at our Spring 2012 annual meeting, we decided to delve into the unprocessed archives and look for materials relating to Hunterdon County Horology. The result was interesting: a large group of materials produced by Mr. John Schenk. John Schenk was a well-known figure in Hunterdon County, but perhaps what was not as well known was his interest in Hunterdon tall case clocks and the men who built them.
The bulk of this collection includes notes, correspondence and photographs of John Schenk's research on tall-case clockmakers of Hunterdon County, including a transcript of "Treasure and Pride", an unpublished manuscript dealing with the results of his research. The rest of the collection includes material relating to the establishment of the Doric House museum, material relating to the Flemington Choir School,and another unpublished draft manuscript by Ron Schultzel (former HCHS Curator), that is a history of Hunterdon County clockmakers (based on Mr. Schenk's notes).
This collection would be beneficial to anyone interested in Hunterdon County tall case clockmakers. The Society would like to thank Archival Volunteer Erin Brennan for spending many hours arranging and describing this collection for us!