New Collection Available at HCHS Archives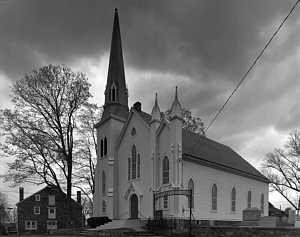 Manuscript Collection No. 120 is a small but noteworthy selection of papers from the Second English Presbyterian Church of West Amwell (the Mount Airy Church). The selection of materials dates from 1786 to 2004. The collection consists of legal documents, deeds, and notes on the Church history. Some of these are foundational documents for this particular church. This collection would be of interest to anyone researching the history of this church or the area of Mt. Airy.
Several documents of this collection are of particular note; the first is a roll from 1786 that swears in the elders of the church and includes a loyalty oath. There is also a deed from 1810 for the Church property which is very well preserved. Another treasure is a book of the session minutes (meetings of the elders, in which new parishioners were examined and other matters transacted) of the church from 1802 – 1861.
Other interesting collections that have been released this past month include Collection No. 118; Papers from the Office of Alvah Augustus Clark, and Collection No. 119; The Davis Family Papers (1807-1873). For more details, click Manuscript Collections.