No. 128: The Clark-Dunham Family Photographs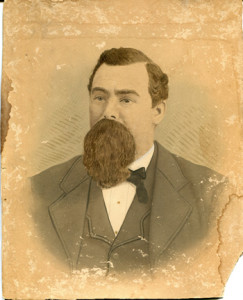 The Clark-Dunham Family Photographs collection consists of photographs from the Clark-Dunham and Apgar families. The majority of the images are studio portraits, but unfortunately only a minority are identified. There are pictures of assorted people on a variety of dates, and different occasions. The collection has been arranged according to identified photos, portrait/studio photos followed by groupings according to a theme suggested by similarities of the subject. Of interest are the identifiable photographs of the Clark-Dunham and Apgar families, and two tintypes. One group of photographs appears to have been taken at the Philadelphia Sesquicentennial held in 1925.
There are 83 folders separated into five series. The portrait/studio photographs are filed one per folder with identified pictures (folders 1 through 16) followed by the two tintypes (folder 17). The next series is unidentified or only partially identified images, still mostly studio portraits of single subjects or family groups (folders 17 through 69). Smaller photographs, previously contained in an album are placed in enclosures (envelopes 70 through 82) according to a theme. There is one heavily damaged photograph of the town of Clinton, looking east along Main Street taken from the hill behind the Red Mill [folder 83]. Virtually none of the photographs are dated, but there appear to be images from the late 1880's through the 1930's.
These photos were once in possession of, and presumably collected by, Harry Kline Dunham (1879 – 1949) and his wife Blanche Clark. The families were from Bedminister Township, Somerset County and New Germantown, later known as Oldwick. Members also originated from Clinton, Hunterdon County. Marion and Helen Waldron of Oldwick, NJ donated these photos to HCHS. Their aunt, Sarah Craig, married Henry Kline (d. January10, 1927). Sarah was related to Harry (Henry) Kline Dunham. Clark Dunham, the son of Harry K. Dunham, last owned the pictures.
The Society would welcome the assistance of any members or interested researchers familiar with the Clark-Dunham families who could identify some of the subjects in these images.