February Collection Gem: Samuel Budd English Portrait
Authored by David Harding, hunterdonhistoryadm@gmail.com
Not every picture tells a story – sometimes it tells two.
That's certainly the case with this month's Collection Gem, a portrait of Dr. Samuel Budd English, who for 40 years served as the superintendent of the New Jersey Sanatorium for Tuberculosis Diseases outside Glen Gardner.
The second story is about the man who painted him: Lew E. Davis, considered to be the "dean of Arizona artists," whose painting career spanned a half century.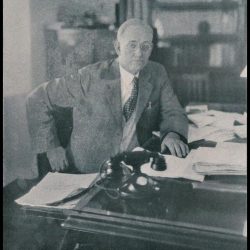 Dr. English was born on January 27, 1877 at Leeds Point, in Atlantic County, where his father taught school and ran a general store. In 1906, he graduated from the Jefferson Medical College and interned at the Cooper Hospital in Camden. While there, a doctor he knew agreed to accept the post of superintendent at the tuberculosis sanatorium, and asked Dr. English to be his assistant. The young doctor agreed, but then his colleague changed his mind about the job. An offer to the post was extended to Dr. English, and although he confessed to the institution's board that he knew nothing about tuberculosis, the board replied "not many doctors do." Dr. English accepted.
During his 40-year career, Dr. English became recognized as a pioneer in the fight against tuberculosis. When he began, there was no organized effort to combat the disease in New Jersey. Dr. English opened one of the first free public clinics to diagnose and treat the disease. He oversaw the creation of clinics and admission stations in large cities throughout the state. Legislation passed in 1920 helped expand that reach, enabling clinics to branch out into rural areas.
Dr. English introduced tuberculin testing among high school students, and his work resulted in a 1939 law requiring all state Boards of Education to provide for tuberculin testing or x-raying of high school pupils and all school personnel.
His list of professional associations is impressive: he was a founder of the New Jersey Chapter of the American College of Chest Physicians, a charter member of the New Jersey Trudeau Society, a past president of the New Jersey Health and Sanitary Association and a past president of the New Jersey Tuberculosis League. He was also a member of the Hunterdon County Medical Society, the Medical Society of the State of New Jersey, American Medical Association, the National Tuberculosis League and the American Public Health Association.
Dr. English retired in 1947, and had been ill with heart trouble when he died at the Union Forge Nursing Home in Glen Gardner on Nov. 3, 1949 of a cerebral hemorrhage at the age of 72.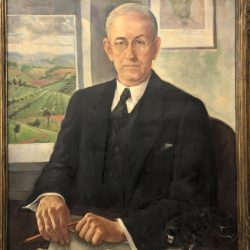 Sometime, most likely during the early 1930s, Dr. English sat for a portrait with a painter who would later become one of the founders of the Arizona Art Community, Lew Davis.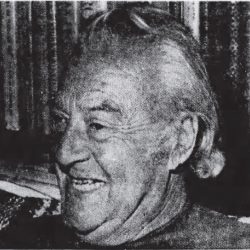 Davis is recognized as a talented easel painter whose imagery predominantly depicts Arizona copper mines, brilliantly colorful horses and landscapes. He was born in Territorial Arizona on Nov. 2, 1910 and gained national recognition during the Great Depression for a series of paintings of the then-booming copper-mining life, and his painting "Boy Lives in a Copper Camp," was exhibited at the 1940 New York World's Fair. During World War II, he was stationed at the segregated Fort Huachuca in southeastern Arizona. While there, he sought to boost morale by establishing a silk-screen shop, producing posters in an effort to recruit African-American soldiers. He was awarded a Legion of Merit for his work, according to his 1979 obituary in the Arizona Republic.
After the war, Davis sparked a campaign to make the art exhibition at the Arizona State Fair more professional, and he established the Arizona Art Foundation.
"Davis was an important and influential figure in the Arizona art community," said Carolyn C. Robbins, who curated a special exhibition on Davis's work in the early 1990s at the Scottsdale Museum of Contemporary Art. "When he started, there was no art scene here."
So, how did this Arizona painter and pioneer doctor meet? Well, we don't know the exact forces that brought the two men together, but we can fill in some of the holes.
Robbins, who wrote her thesis on Davis, said the Arizona artist didn't feel as though he fit with the local culture at that time. Davis hitchhiked to New York City at the age of 17, where he attended art school. He moved around the region for a bit, and sometime around 1931-1932, he settled in Plainfield, New Jersey.
While there, he "idealized many scenes in these environs," according to the Plainfield Courier-News, including "the Jersey Central Railroad bridge across Roosevelt Avenue near East Fourth Street on a wintry day; a farm in the suburbs whose owner is most evidently a shiftless, lazy, hombre whose farmyard is in the last stages of neglect . . ."
But included in an exhibition of his work in June 1936 were at least two portraits: one a self-portrait, the second is entitled "The Rebel (Elizabeth Ruskin), 1932," which is now in the possession of the Phoenix Art Museum. (This portrait can be viewed on the Phoenix Art Museum's Facebook page HERE. Ruskin was a student of Davis's while he taught at a private all-girls school in New Jersey. An additional side note: Dr. Betsy Fahlman, a curator at the Phoenix Art Museum and a professor of art history at Arizona State University, noted in an email that Elizabeth Ruskin died of tuberculosis.)
One presumes it's most likely that during this time, Dr. English sat for Davis for this painting.
The painting came into HCHS's possession recently courtesy of Veterans Haven North, who contacted the Lebanon Township Museum, who, in turn, reached out to us. We extend our deepest gratitude for both organizations.