Every Picture Tells a Story: The Stockton Fire of 1905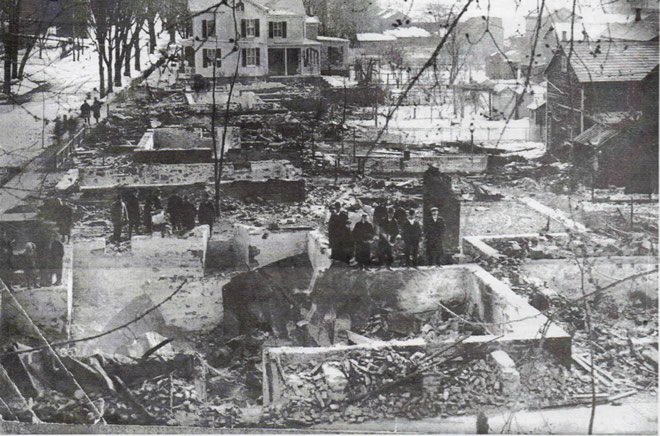 The above photo was taken at the intersection of Bridge Street at the intersection with what was then River Road in Stockton, following a devastating fire on January 22, 1905. The lower left corner of the photo is believed to be the spot where the fire started.
"With a blizzard raging, with the snow flying and the wind blowing at the rate of fifty miles an hour, fire broke out in Davison's general store at Stockton . . . at about 1 o'clock on Thursday morning, an overheated stove being the supposed cause," reported the January 26 Lambertville Beacon.
The fire was reported to have been discovered by Mrs. Sarah E. Hendricks, who resided in a portion of the building. At first, residents fought the fire with buckets of water and with shovels of snow, but the strong winds carried the blaze to adjacent buildings.
Stockton, which did not have its own fire company, called upon Lambertville Chief Cornelius Arnett, who sent the Columbia chemical engine on a special train. The Trenton Fire Company spared a steamer and hose, which did not arrive before the flames died down.
Fire destroyed these buildings: A.L. Davison's store; John F. Sherwood's restaurant and dwelling; Smith Cottrall's cigar and confectionery store (owned by Frank Wagner); Samuel S. Horner's undertaking establishment and residence; the building occupied by Tony Suozzo, shoemaker (it was owned by C. L. Fell); H. W. Fisher's barber shop; dwelling houses owned by Edward Foss (or Faucs), Alfred Wilson, William Durling, Mrs. Cornelia Wood, Willis Dilts and Spencer Dilts;  and other small buildings. The newspaper recorded total losses estimated between $25,000 and $30,000.
The blaze prompted residents the next year to establish a fire company and purchase a fire engine.