When you hear the word "map", one's mind typically turns to geography. This month's Collection Gem is a prime example of how history is also conveyed by maps.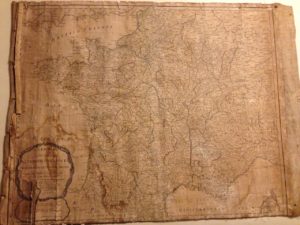 In the Society's Map Collection there is a map intriguingly listed as "Kingdom of France", with no date (photo 1). The last man to hold that royal title in France was Louis Philippe I, who reigned from 1830 until 1843, placing an "older than" age bracket on this map. The history in this map is evident when compared to a modern map (photo 2).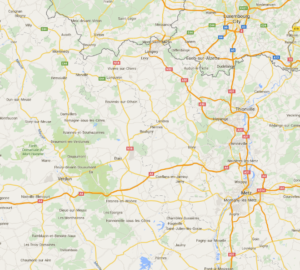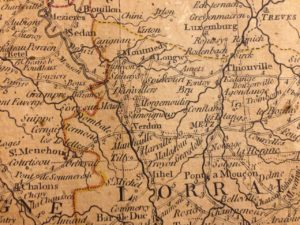 Many/most of the population centers east of the city of Verdun (photo 3) were destroyed during the Imperial German 1916 Verdun Offensive during the First World War and never rebuilt. Some 1.4 million men were engaged in this almost 10-month battle, with well over half a million casualties and over 300,000 fatalities. Certainly a tragedy that makes the map an interesting historical artifact. "But wait; there's more!"
I located an exact copy of the HCHS map online, where it is dated to 1790. This makes the map that much more interesting for several reasons. First, the king when the map was printed was King Louis XVI, who reigned from 1774 to 1793. While not on the throne when Great Britain defeated France in what we refer to as the "French and Indian War", he succeeded his grandfather to the throne in 1774 and reigned when France came to the aid of the United States of America in 1778, fighting against Great Britain until American Independence was achieved by the Treaty of Paris in 1783.
More touching is the fact that this map was published while France was in the midst of her own Revolution. It was published the year before a constitutional monarchy was declared in 1791, and only a few years before King Louis XVI was guillotined by Republicans (no, not those Republicans!) in January 1793. His death brought an end to more than 1,000 years of French monarchy, replaced by the First French Republic. Oh, and did I mention that Louis' queen was Marie Antoinette?
Save
Save