Spotlight On HCHS Collections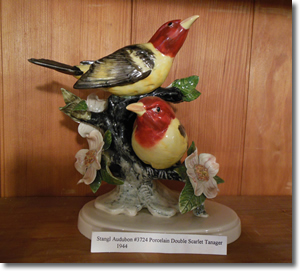 The Stangl Pottery and its wares are intimately linked with the history of Flemington and Hunterdon County. The pottery business which came to be known as Stangl began in 1814 when Samuel Hill opened the Hill Pottery in Flemington. This company eventually was purchased by Abram Fulper and became the Fulper Pottery Company, which in turn was purchased by Johann Martin Stangl and became the Stangl Pottery Company.
Although Stangl produced most of their wares in their Trenton factories, the company always kept open one of its original small factories in Flemington, eventually turning it into a retail outlet. This building is still open today as an artist's gallery and farm market on weekends. Stangl Potteries is often credited with producing the first real open stock dinnerware available in the American market, and various patterns of dinnerware are still in demand today as collector's items.
Some of Stangl's most highly sought after pieces, however, are from a series of figurines of birds they produced from 1939 to 1955. Sometimes referred to as the Stangl Birds, or as the Birds of America series, many of these figurines (like the pictured Scarlet Tanagers) were modeled after Audubon likenesses. They have fine features, intricate details, and very realistic glazes that make them bright, beautiful, and highly sought after pieces of history.
The Hunterdon County Historical Society boasts a fine collection of both every day and unique pieces of Stangl and Fulper pottery. This collection, in a rear gallery of the Doric House Museum, is beautiful in its own right, and helps to explain the importance of the pottery to the county's history and a little bit of the contribution of this little portion of Hunterdon County to the larger world. The Fulper/Stangl collection may be viewed any time the Doric House Museum is open for tours or by appointment.