New Release: The New Jersey GAR Collection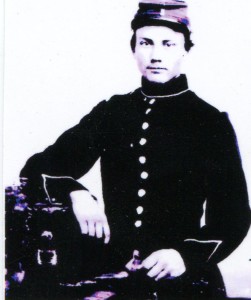 The Hunterdon County Historical Society Archives is pleased to announce the release of a small collection of material from several different Grand Army of the Republic (GAR) posts in Hunterdon County: Collection No. 117, New Jersey GAR Collection.
This Collection consists of post-Civil War papers, pamphlets, records, and artifacts of New Jersey members of the Grand Army of the Republic. The items are related to GAR reunions, Memorial Day celebrations, burial services, and the records of individual GAR members.
The collection would interest any researcher of civil war veterans and their activities after the war. The attached image is of Pvt. Charles Ryno. Special Thanks to archival volunteer Peter Corcoran for arranging and describing this collection!