HCHS releases collection of Rittenhouse Family papers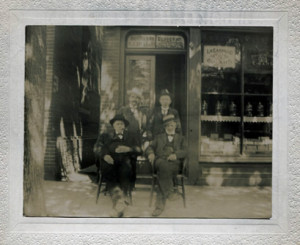 The HCHS is pleased to announce the release of a new collection, No. 131, the Rittenhouse/Fuhrmann Papers. Dr. John B. Fuhrmann (1917-1993) , a longtime Hunterdon County physician, was a descendant of the Rittenhouse family. He was a son of Barclay and Alberta Rittenhouse Fuhrmann. He was very active in researching the genealogy of his family, and the Society was fortunate to acquire a collection of genealogical materials of his creation concerning Albert H. Rittenhouse, his family, and his descendants.
Albert H. Rittenhouse of Hunterdon County was born February 26, 1854, and died February 1, 1937. This collection contains legal papers (indentures, bonds, deeds, appointments, and certificates) relating to Albert and his family, There is also an interesting genealogical notes file, with research, notes, and original and copied documents. There are also small amounts of correspondence, news clippings, ephemera, and appointments of notary public for Albert. Also included are 8 photographs, presumably of the Rittenhouse family and its activities. This collection would be of great interest to those researching the genealogy and history of the Rittenhouse family, and the Society would like to thank Archival Volunteer Shoshana Nimaroff for arranging and describing this collection.