2015 Research & Cataloging Project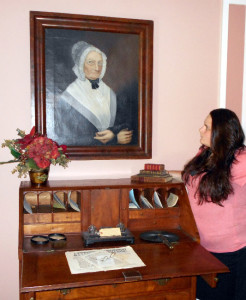 As the 2015 research and cataloging project continues in Doric House, Katlyn O'Brien, the Hunterdon County Historical Society's intern from Rider University, has made great strides in finding records and interesting connections between the collections. The scenario in which the Chippendale desk crafted by Captain Adam Hope and a portrait of his daughter Anna made their way to the Society was written by Katlyn:
"Living in Hunterdon County, only 200 yards from where the historic Clinton House now stands, is where the little girl named Anna and her father Adam Hope called home.
Adam, a Captain during the American Revolution, commanded a company of the New Jersey Militia of the Second Regiment in the Battle of Monmouth in 1778. It was during this time that he crafted the Chippendale desk. Carved by the hands of Captain Hope, it was made for another man who found himself in the throngs of war, a naval surgeon Dr. John Grandin of Hunterdon County. Because of the closeness of the community, the desk was not simply ordered in some shop ~ but Dr. Grandin and Captain Hope spoke and agreed on the price, perhaps with little Anna playing off in the distance.
I imagined a small girl sitting on the floor of her father's workshop playing with her favorite doll; sawdust and wood shavings litter the floor as her tiny shoes made patterns in the dust. Perhaps she cherished the memory of her father working the wood into a beautifully crafted  desk.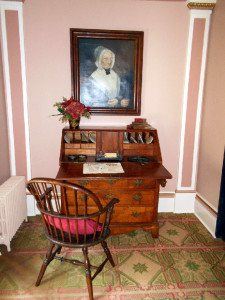 Together Again ~ The Doric House has become the final resting place of this grand Chippendale desk. It is almost as if fate stepped in because by the generosity of family members, a portrait of Anna, later in life, hangs above the desk that her father built. Older now, eyes filled with wisdom, she quietly sits. The smell of wood still permeates the parlor where the portrait and desk now call home. With this, the memory of Anna, Captain Hope and Dr. Grandin continues to thrive. The question remains– what other discoveries are there yet to be found within the walls of the Doric House?" ~ Katlyn O'Brien