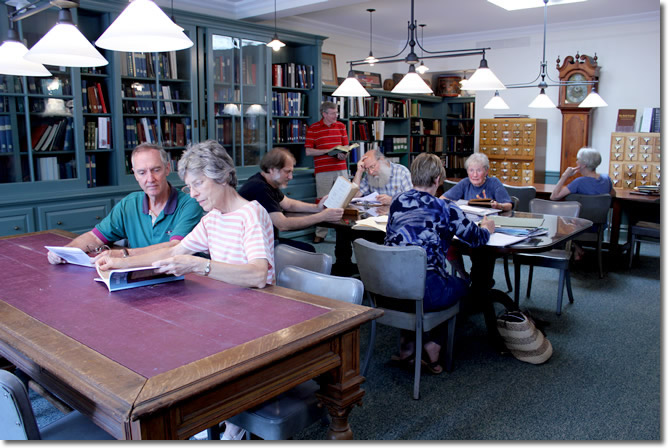 The Hiram E. Deats Memorial Library is the largest collection of Hunterdon County historical and genealogical material. It is open to the public at no charge. The collection consists of over 6,000 printed volumes, manuscripts, newspapers, maps, broadsides, photographs and records of local history gathered and preserved since the Hunterdon County Historical Society was founded in 1885.
Food and beverages are prohibited in the Library. As a courtesy to fellow patrons, cell phone use is also prohibited. Use of ink pens is not permitted; the library provides pencils for those requiring one.
Laptop computers are permissible and digital cameras are encouraged for photographing delicate materials that are too fragile to photocopy.
There is a 25¢ per page photocopy charge; microfilm copies are 50¢ per page.
Library Hours
The Library is open every Thursday 10-4pm and the 2nd and 4th Saturday of each month from 10-4pm.
Research Library Collections
The Deats Notebooks: Representing the private genealogical work done by Hiram E. Deats during his lifetime
Family Bible Records: Photocopies of genealogical data from over 400 bibles
Family Folders: Files on over 1200 Hunterdon County families comprising the correspondence of the Society's Genealogical Committee from circa 1890 to the present
Genealogies: Over 300 published and unpublished genealogies
Hunterdon County Histories: Approximately 300 published books, pamphlets, 1000+ photographs, scrapbooks and unpublished manuscripts read before the Society
Manuscripts Collection: Manuscripts are unpublished handwritten documents, transcripts and photoduplicates and include such items as correspondence, legal documents, diaries, journals, account books, genealogical notes, non-current records of counties, town, institutions, and organizations
Microfilm Collection: Federal Census records 1830-1910 for Hunterdon, Mercer and Somerset Counties;  State Census records 1855-1885 for Hunterdon County;
Newspapers, various church records, municipal and county records including all Hunterdon County wills and administrations before 1807, some wills and administrations after 1807, deeds, tax maps and records, histories and genealogies
New Jersey Histories: Extensive collection of local community, township, county and state histories complemented by histories and archives of neighboring states as well as publications of national interest
Newspapers: 50 different newspapers, some in bound volumes, others on microfilm
Tombstone Inscriptions: Records of over 50 cemeteries
Vertical File: Collection of published and unpublished clippings, brochures, pamphlets and other documents of state and local cultural, genealogical and/or historical interest filed by place and/or subject
Save
Save