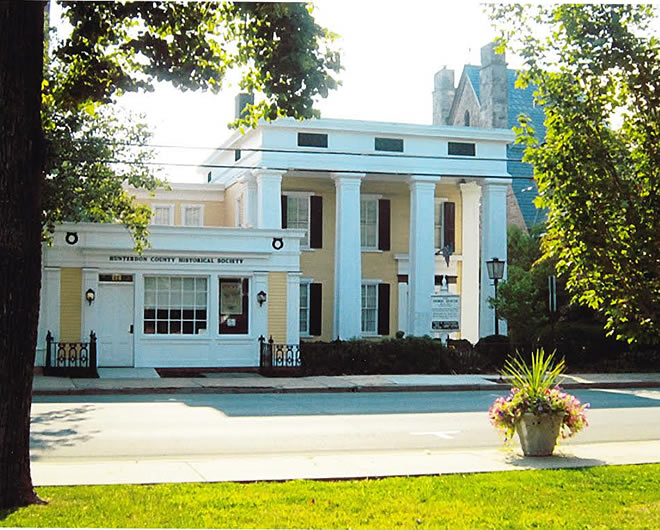 The Doric House at 114 Main Street was built in the Greek Revival style in 1845 by Mahlon Fisher, a country carpenter of ability and taste, as his private residence. He also erected several other Flemington residences in the same style. The fine quality of design was probably Fisher's own, although it is likely that he had available to him Minard LeFevres' architectural plan book of the period.
The Doric House was acquired by the Hunterdon County Historical Society in 1970 from the neighboring Methodist Church with the financial help of the leading citizens and business people of Hunterdon County. Before that the Doric House had served as a residence, Odd Fellows headquarters, restaurant, Methodist Church School, and now a museum and library.
One enters the house through a square columned portico. The foyer displays a beautiful elliptical staircase with elegant decorative touches. The front parlor is elaborately decorated with twelve tall, thin painted wood, paneled pilasters capped by a gilded leaf-and-dart motif plaster molding and a tall and deeply recessed plaster cornice. A large cast plaster medallion centers the nine-foot high ceiling. The fireplace mantle is of black marble shot with gold. The first-floor doors are massive in beautifully finished solid figured cherry more than two inches thick. The floors throughout the house are pine planks where not carpeted.
The museum house is largely furnished in the Empire style, a design developed in France under Napoleon (1804-1815) with curving lines, some carving and occasionally ornamentation in brass with ivory and gold stencil. The style spread to the United States in the era of the 1820s though the 1840s and complements Greek Revival architecture.
The Doric House Museum is open by appointment year-round and for special events and exhibit openings throughout the year.
PARKING is usually available on the street in front of the building, but it is limited to two hours. If you plan more time in the Library or Museum, use the back section of the free municipal lot across the street. Front spaces there are reserved for the office on the street.