HCHS Seeks Volunteers to Transcribe Documents
If you enjoy history and have a talent for interpreting cursive hand writing, then we have a fascinating project for you.
Our Archive Committee is seeking volunteers to assist with transcribing documents scanned into a computer. It's a great way to explore local history from the comfort of your own home.
Here's how it works: Let us know you wish to participate. A committee member will email you a scanned document that you can transcribe at home at your leisure. When finished, just email us back your transcription. It's that easy.
This is an intriguing opportunity to read letters and other correspondence that was written, in some cases, centuries ago. You also will be performing a helpful service by adding to our collective knowledge about life in Hunterdon County: Transcribed documents will be added into our database for everyone to to research and enjoy.
Here's an example: Below is the entire letter written by Col. Anthony White to Moore Furman in 1778. The transcription can be found beneath the image: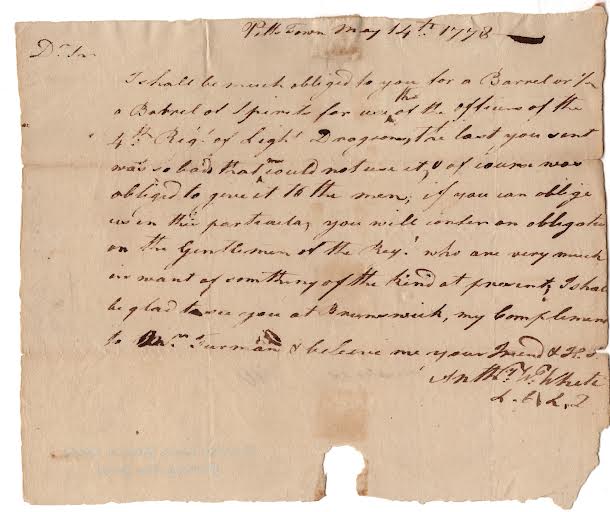 D(ea)r. Sir Pittstown                        May 14th 1778
I shall be much obliged to you for a Barrel or ½
a Barrel of Spirits for use (the) of the officers of the
4th Reg't of Light Dragoons. The last you sent
was so bad that (we) could not use it, &? of course near
obliged to give it to the men; if you can oblige
us in this particular you will confer an obligation
on the gentlemen of the Reg't who are very much
in want of something of the kind at present. I shall
be glad to see you at Brunswick, my compliments
to Mr.(?) Furman & believe me your friend & H. S (?)
                                                                 Anthony W White
                                                                 L. C / L. 2