(NOTE: Titles in burgundy are links to pdf files of the collection.)
Collection  61. The Engeman – Large Papers. Collection includes personal papers and organizational records of the Engeman and Large families of Flemington, NJ. Follow link for details. – Download Inventory List –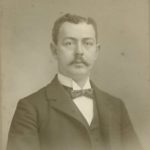 Collection 62. The Matthews Papers. Collection includes newspaper clippings and documents relating to the careers of John J. Matthews Sr. and John J. Matthews Jr. of High Bridge, NJ, as well as to the Hiney family to whom they were related. – Download Inventory List –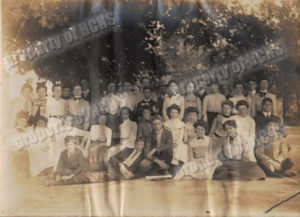 Collection 63. The Maud L. Wilson Collection II. Collection includes more of the papers and records of Maud L. Wilson.  – Download Inventory List –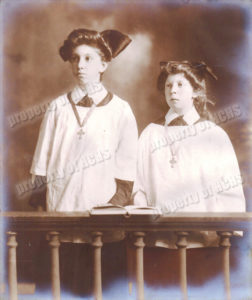 ---
Collection 64. Flemington Children's Choir School I. Collection includes the history of the Choir School, 4 books for children's choir, biographies of Elizabeth Vosseller, Elias Vosseller and Norman Landis, the story of "The Singing Village," correspondence, and memorabilia.
Collection 65. The N. Burr Coryell Collection. This collection consists entirely of genealogical material collected and researched by N. Burr Coryell.  It is not maintained as a separate collection but has instead been co-located and interfiled into the Deats Genealogical Files.  It may be referenced and utilized with that collection, which is available in the reference room of the Deats Memorial Library.
Collection 66. Flemington National Bank Collection. Collection consists of periodicals, booklets, advertising, photographs, bound manuscript ledgers, day books, and other records detailing operations of this historical Flemington business.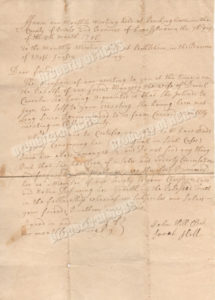 Collection 67. Hunterdon County Historical Society Collection Part VI. Collection includes another assorted grouping of unassociated records, please follow the link for details. – Download Inventory List –
Collection 68. The Sadie Opdyke Papers. Collection includes the papers and collected records of Sadie Opdyke of West Portal, NJ.  Follow link for details. Download Inventory List
Collection 69. The William Fisher Papers. Collection includes deeds, wills, inventories, executor papers, and bible records of the Smith, Lanning, Van Marter, and Fisher families.  No inclusive record dates for this collection are given. Download Inventory List
Collection 70. Papers of the Hunterdon County Chapter of the American Red Cross. Collection includes records and papers that document the organizational history of the Hunterdon County Chapter of the American Red Cross. Download Inventory List
Collection 71. The Large Papers. Collection includes personal, business, and case records of John K. Large, George H. Large, and their law practice of Large & Large.
Collection 72. Independent Order of Odd Fellows (1848-1976). Collection includes minutes and other records of the Independent Order of Odd Fellows Powhatan Lodge #72 of Ringoes, NJ.  It also includes the constitution of the lodge, member lists, officer's role books, annual statistical reports, ceremonies, ritual books, and minute books.  Records date from 1848 to 1974.  See list for details.
Collection 73. Hiram E. Deats Papers II. Collection includes a large group of general correspondence, personal papers, family papers, philatelic records, records of societies and organizations, Agassiz Association records, photographs, and miscellaneous materials of Hiram E. Deats of Flemington, NJ. For a detailed container list for this collection.
Collection 74. The George Engeman Jr. Papers. George Engeman Jr. was a former Mayor of Flemington.  This collection includes correspondence concerning his father, George Engeman, and his uncle, William Engeman.  It also includes a series of printed material from his father's days as a Midshipman in the Navy, his own education at the Bordentown Military Institute, and a selection of his father's articles published in Baltimore, MD newspapers.  Records date from approximately 1908 to 1936.
Collection 75. The Bartles Papers II. This collection, an amalgamation of sources and materials spanning nearly two centuries, consists largely of court dockets, deeds, articles of agreement, account information, and correspondence related to Charles Bartles, his law practice, and his family.  One principal attraction of this collection is the group of court docket books within it; these dockets are highly valuable as they supplement the official record of cases from the Hunterdon County Court of Common Pleas for the first half of the nineteenth century.  Other items of note include documents discussing the treatment and sale of slaves in the area, the construction of the Flemington Rail Road, and the Civil War as it related to Hunterdon County.
Collection 76. Records of the Shepherd's Star Lodge No. 10, Frenchtown, NJ (1863-1967). The Shepherd's Star Lodge No. 10 of Frenchtown, New Jersey was a subordinate lodge of the Order of Shepherds of Bethlehem and operated from 1898 to 1967. This collection includes lodge correspondence, financial and membership information, constitutions, by-laws, rules of order, written materials and artifacts. See finding guide for details.
Collection 77. Thelma K. Miller Clippings (1939-2000). Collection consists of a selection of newspaper clippings from Thelma Miller of Three Bridges. The first series of clippings are "Old Ink" articles from the Hunterdon County Democrat. The second series is clippings on miscellaneous and varied subjects, most of which concerned the Three Bridges area. Follow the link for the container list.
Collection 78. New Germantown Public School Library Records (1880-1970).  This collection comprises records regarding the New Germantown Public School Library's book holdings and circulation, as well as financial and organizational information.  Located in the rural Tewksbury Township, New Jersey village renamed Oldwick in 1918, the library played an important role in the community for nearly a century. See finding guide for details.
Save
Save
Save
Save
Save
Save
Save
Save
Save