(NOTE: Titles in burgundy are links to pdf files of the collection.)
Collection 95. Julia Deats Papers (1854-1877). The collection contains ephemera, hair clippings, newspaper clippings, assorted name cards, invitations, "at home" cards, and wedding invitations.  Follow the link for details.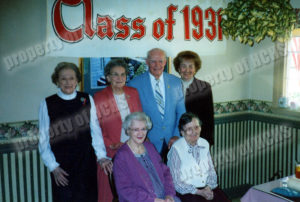 Collection 96: The Ruth and Elizabeth Ent Collection (1928-2001). This collection contains personal papers, photographs, and scrapbooks of Elizabeth and Ruth Ent, of Hunterdon County, NJ, including their education at Flemington High School and subsequent class reunions. Also included are records from Ruth from her years as a volunteer with Christian Endeavor (a volunteer organization) and from her work at the Flemington Egg Auction. – Download Archives Details – | – Download Container List –
Collection 97. Van Fleet Collection (1868-1899). The Van Fleet Collection consists of thirteen (13) day books, also known as business ledgers.  They cover the time period from 1868 thru 1899 while the Readington Steam Mill operated, and later when the building was used as a store.  The Mill was owned and operated by John Van Fleet, and later included participation by D.G. Thomas. Also included are three (3) ledgers documenting the business activities of Jacob Van Fleet, the son of John, while working as a barber.  Follow the link for the finding guide.
Collection 98. George Bushfield Papers(1900-1969).  The collection comprises the personal papers of George I. Bushfield from the late 1940's until 1965.  It includes correspondence and documents from the Readington Tercentenary Committee; notes, correspondence and articles on Readington Township history; correspondence relating to the Hunterdon County Historical Society; and miscellaneous personal papers.  The collection also contains 95 photographs exclusively relating to Readington Township.  This includes images of historic homes from 1964 and 1965 as preparation for a proposed book on Readington Township.
Collection 99. Milford Glass Plate Negatives (1870-1910). This collection is comprised of one series of photographic images in 18 folders.  Most of the images in the collection are in the form of glass plate negatives (positive copies of the images are available).  Many images illustrate the natural beauty of the Milford, NJ area while others depict buildings and infrastructure that were significant in the town's growth and development.  See finding guide for details.
Collection 100. William Mattison Collection (1835 – 1879). The four items in this collection document the life of William Mattison. His cyphering book provides a glimpse into the education required to prepare him as a shopkeeper; the road book details his earlier working history, and the daybook demonstrated the daily records required to manage a store. The lease shows the locations of Mattison's shop from 1841 to 1842.  See finding guide for details.
Collection 101. The Jack Shepard Papers (1918-1958). This collection includes an assortment of memorabilia saved by Jack Shepard during his time as an engineer in WWI, as well as some records of his activities in the civic life of Flemington, NJ and the operation of the Flemington Fair.  There is also a handwritten travel journal by Milton Shepard dated 1877.  See finding guide for details.
Collection 102. Records of the Whitehouse Station Business Association (1964-1979). This collection documents the work of this organization, and is comprised of a variety of administrative records that includes public relations, finances and event planning, particularly in relation to the annual Memorial Day Parade in Whitehouse.  There is also documentation available entailing the design and construction of the Veteran's Monument at the Readington Municipal Building.  Follow the link to view the finding guide for the collection.
Collection 103. John Bullock Letters (1865). This collection contains 16 letters written to John Bullock during the summer of 1865. The majority of them are from his mother, Jannet Bullock. Included are letters from other family members during the same time period. Legal notifications and supporting documents are also enclosed.  See finding guide for details.
Collection 104. Bauer Farm Records(1916-1974). This is a collection of receipts from the Bauer Family that document farm life from the early 1900s to the mid 1970s.  By studying the entire collection one can glean information typical of a mid-twentieth century Hunterdon County farm operation.  See finding guide for details.
Collection 105. Moses Lake Tavern (1863). This small collection is comprised of documents relating to the tavern license, tax receipts and tavern costs for a tavern or inn operated by Moses Lake, at his home in Raritan Township, NJ.  See finding guide for details.
Collection 106. Walter E. Foran Memorabilia (1919-1986). The collection comprises newspaper clippings, senate resolutions and photographs relating to State Senator Walter E. Foran and his father, Col. Arthur F. Foran.  See finding aid for details.
Collection 107. Green Papers (1938-1946). A small collection of Christmas cards from the Green Family, as well as four photographs; a portrait of Mr. and Mrs. Green, individually, and a single photograph of each with their horses.
Collection 108. Large Family Photographs (1865-1920). The collection comprises 1 handwritten lease of Eliza Large for a property in Whitehouse Station and 61 various photographs, mostly of the Large Family of Flemington.  The photographs date from approximately 1865 to 1920 and include various photographic processes such as ferrotype, albumen, silver gelatin, and developed out prints.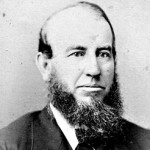 Collection 109. Boileau – Blane Collection (ca. 1863 – 1949). This collection overviews the lineage of the Boileau-Blane family.  Manuscripts and photographs begin with the marriage of Eleanor L Boileau and Samuel Boileau, and the collection concludes with photographs and documents from the life of Nancy Burdick.  Photographs, some labeled and others unidentified, make up the majority of items.  Follow the link to view the finding guide for the collection.
Collection 110. The Elisha Warford Papers (1803-1863). This collection contains legal and business papers of Elisha Warford from 1803 to 1863. It also contains the diaries of Benjamin H. Ellicott from 1862-1863. The collection would be of interest to anyone researching business, land dealings, and genealogy of the Warford Family and Western Hunterdon County (Kingwood, Delaware, Alexandria) between 1803 and 1863. The collection also provides a very personal glimpse of Ellicott's views on both local and state news and the events of the Civil War.
Collection 111. Records of the Hunterdon County Park System (1954-1992). The collection comprises certain papers of the  Hunterdon County Park System from 1954 – 1992, including forms and promotional material relating to park events, acquisitions of land for the Sourland Mountain Reservation, Union  Forge, and the Teetertown Ravine. Also contains photographs  of George Bloomer, park properties and events, and racing magazines..
Collection 112. The George W. Van Syckel Collection.  Consists of George W. Van
Syckel's research on the Van Syckel family of Alexandria Township. It includes
cemetery records, deeds, other family documents, news clippings, and photographs.
The collection provides information on both the Van Syckel family and the Alexandria Township area, and would prove useful to anyone researching Hunterdon families in Alexandria Township.
Some of the interesting documents in the collection include 5 folders of original records of the Mount Pleasant Cemetery Association from 1845 to 1950. There are also 13 original deeds from 1817-1891 to real property owned by the Van Syckel and other families in Alexandria Township. There is a unique county militia commission from 1805, a teaching diploma from 1874, and family genealogy notes from 1881. There are also 10 photographs and some of George Van Syckel's modern genealogical research. To aid in the use of the collection, there is an every name index located last in the finding aid.
Collection 113. The Fleischbein Donation (Alexandria Deeds and Records), (1805-1904). This collection is comprised of a small assortment of legal documents: indentures/deeds, insurance and mortgage records, and correspondence and dowry transactions from several Hunterdon County families, especially the Pittenger family.
Collection 114. Bruno Hauptmann Trial Photographs. This collection consists of twenty-three assorted photographs of scenes from the trial of Bruno Hauptman. The photographs do not provide complete coverage of the trial but give a general overview of different events surrounding, and within, the courthouse. The photographer is unknown..
Collection No. 115. The Ron Schultzel Cemetery and Church Files (1982-2008). This extensive collection is a series of research and field exploration notes relating to cemeteries and churches of Hunterdon and Warren Counties. The Papers contain research folders labeled by cemetery and church name. Most of the material includes research copies and work notes taken from published and unpublished books and manuscripts, supplemented by findings on trips to the cemetery or church in question. These additional research work notes can include tombstone inscriptions, photographs, correspondence, original or drawn locator maps, photocopies of deeds, photocopies of research sources, and original notes by the creator of the collection. – Download Container List –
Collection 116. Collection No. 116; The Records of the League of American Wheelmen, Hunterdon County Chapter (1890-1910). This collection encompasses a wide variety of documents related to the League of American Wheelmen (LAW). The organization was very active both politically and socially, and the group had a sizable membership within Hunterdon County. This collection would interest anyone researching the League of American Wheelmen, bicycling in the era of 1890 to 1910, or the contributions of this group to Hunterdon County's social history. – Download Container List –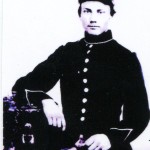 Collection No. 117. New Jersey Grand Army of the Republic (GAR) Collection. This Collection consists of post-Civil War papers, pamphlets, records, and artifacts of New Jersey members of the Grand Army of the Republic. The items are related to GAR reunions, Memorial Day celebrations, burial services, and the records of individual GAR members. The collection would interest any researcher of civil war veterans and their activities after the war. – Download the Container List –
Collection 118. Collection No. 118; Papers from the Office of Alvah Augustus Clark. This collection consists of certain papers from the law offices of Alvah Augustus Clark relating to (i) personal matters relating to Mr. Clark's farm in Lebanon, New Jersey, Hunterdon County; (ii) legal matters having a Hunterdon County connection; (iii) an account book of Samuel Johnston, a workman/glazier from Tewksbury, New Jersey; and (iv) the Ordinances of High Bridge, 1915.
Collection No. 119. Collection No. 119; The Davis Family Papers (1807-1873). This collection contains a small numbers of records documenting the family of Sylvanus and Mary Davis of Tewksbury Township, NJ. The documents describe costs of funeral services, estate inventories, and assorted receipts. It is a useful source of information for Davis family genealogy and for studying the family dynamic in a farming community in the early nineteenth century.
Save
Save
Save
Save
Save
Save
Save