25 Civil War Flag Remnants Displayed at County Library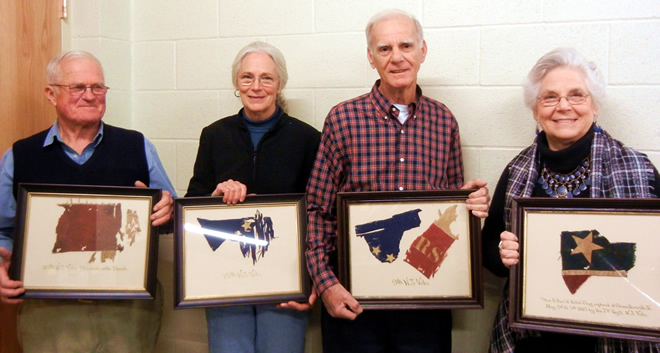 As part of the continuing recognition of the 150th anniversary of the American Civil War, the Hunterdon County Historical Society, in partnership with the County Library, is exhibiting 25 newly restored regimental flag remnants at the Route 12 library from December 4-31.
The collection was donated to the Society by Grand Army of the Republic posts in Hunterdon and its successor group, Sons of Union Veterans. Mostly from New Jersey, a few are Confederate flags captured by NJ soldiers.
A Civil War regiment carried up to eight different flags, but two were always displayed in their front ranks: the regimental flag and the national stars and stripes. Union flags, usually made of silk, lasted only about a year because of the hazards of battle and weather, necessitating their replacement for the longer-term regiments. The flags were special targets for the enemy and color bearers had a high casualty rate, thus most were recognized with the rank of sergeant.
The flag fragments on display have just been restored. According to John W. Kuhl, noted Civil War collector and Historical Society Trustee, "They have been cleaned, backed with new eight-ply rag mat board, identified with new calligraphy, and the old glass replaced with acrylic glazing. Their preservation and transformation is remarkable, and, since they are housed in the Society's environmentally-controlled Archives building, they should survive well into the future."
The Historical Society's volunteer restoration team included noted flag expert Richard Pierce of Whitehouse, and textile conservators Kathy Francis of Summit and Judy Grow and Lynn Burtis, both of Flemington. Calligrapher Catherine Lent of Frenchtown reproduced the regimental identification, and Artist Allan Grow of Flemington repaired gesso on some of the frames. Six new frames were purchased at a discount through the courtesy of Picture Perfect Framing in Flemington.
Funding for the restoration project has been made possible in part by the Hunterdon County Board of Chosen Freeholders, through funds administered by the Hunterdon County Cultural and Heritage Commission and donations from John Kuhl, Judy Grow, Catherine Lent, Mary Anne Adams and the 15th NJ Volunteer Infantry Association of Quakertown, NJ.